n the top shelf in my bedroom closet, you will discover a small box filled with pieces of my heart: printed e-mails, notes scribbled on scraps of paper, and letters from my husband. My favorite is a love letter disguised as a thank you expressing his appreciation for a sweatshirt I gave him shortly after we began dating. My favorite sentence: "I will feel your arms around me when I wear it." I still feel my heart throb when I read that line.
Handwritten letters provide tangible evidence of one's love and adoration. A romantic note offers a glimpse into the emotional side of a relationship, indicates thankfulness, and sometimes, suggests arousing love. Perhaps nothing kindles the flames of love more than a scribbled note professing fondness or lust.
"We do need letters to still send emotionally-charged messages," asserts Samara O'Shea.
Letter writing is a dying art form that doesn't have to succumb to technology. Even though the information superhighway supplies ways for quick communication, a handwritten letter recharges relationship.
"We do need letters to still send emotionally-charged messages," asserts Samara O'Shea, author of For the Love of Letters: A 21st-Century Guide to the Art of Letter Writing.
O'Shea's interest in letter writing engraved a place in her heart when she was young. She always enjoyed and wanted to continue letter writing, even as society moved into the digital age.
Like O'Shea, I grew up composing correspondence to those who played important roles in my life. The first love letter I recollect writing wound up in the hands of my first crush when we both were fourth graders. On a slip of notebook paper, I declared my intentions.
Now, 30-some years later, I've discovered that my letters of love have evolved as much as my relationships. From the crush communiqué to the erotic epistle, certain elements are evident in each example.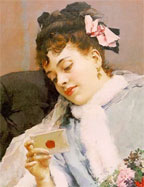 "Posing a question requires the recipient to consider all possibilities."
No magic method exists, but the building blocks are as simple as A-B-C.
Arousing adjectives. Consider traits that make your loved one desirable. Incorporate phrases or sentences that highlight these patterns. In a note to my husband on our wedding day, I praised his trusting nature and down-to-earth beliefs.
Beautiful beginnings. O'Shea believes the first sentence should capture a sense of urgency but doesn't need to be an introduction. Instead, get pen moving across paper. "Don't worry about what you're saying and how you're saying it," O'Shea said. One of my favorite love letters from my husband begins with this basic statement: "I need to know your answers to these questions." He followed up with a top ten list of inquiries about my expectations in a relationship.
Contagious compliments. Nothing says "I love you" like a compliment. Giving thanks for an act of kindness or admiring an attribute tells your loved one why you appreciate his thoughtfulness. Sometimes, even a suggestive greeting card with one or two lines scribbled inside sparks the passion. "I love your smile…" reads the outside of a card I handed my husband. You fill in the rest!
Daring discoveries. Posing a question requires the recipient to consider all possibilities. Rhetorical questions act as a flattering reminder of why you get that tingly feeling every time your loved one enters your comfort zone. Once, I wrote "Do you know why I love you so much…besides the sex?" My husband laughed uncontrollably when he read that note. It captured his attention.
Exciting extents. Sure, length might not be a consideration, but mention the length of your relationship in a love letter and watch the resulting smiles. Over time, you will have solid proof of how your love grew over time. Three years ago, my husband wrote, "I've only known you a month, but I love you." Maybe that serves as proof that you know when you know.
Fantastic fun. Letter writing elicits excitement, savors sensuality, and tempts tenderness. O'Shea believes you should write what you feel and let the fun flow. I found my husband's latest letter in the cookie jar. "I'm empty," it read. "Please refill me."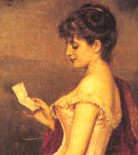 "Just write your love letter in a stream of consciousness. Set it down for a day or two and go back to it."
A love letter doesn't require an outline. "Just write your love letter in a stream of consciousness. Set it down for a day or two and go back to it. Clean up the letter to the point where it is coherent enough to be read by someone else, and then give it to them," responds O'Shea.
Should any nasty notions be kept out of a love letter? Chit chat about a favorite movie star you fancy is a no-no. And the grocery list my husband added to the bottom of a love note shouldn't have been placed in front of me. But O'Shea believes raw emotions deserve to be mentioned.
"Sometimes relationships are sad or trying and it's okay to mention that. A love letter is meant to reinforce the bond between two people," advises O'Shea. "You don't have to pretend things are perfect in your love letter. Things are seldom perfect."
An exchange of missives provides therapeutic benefits because it forces each author to examine feelings and shape them into words. Seeing words in print brings lucidity to the writers. "Love letters clarify feelings for both the writer and the receiver," declares O'Shea.
Writing a letter to the person you care about sends a strong message that they are worth the time and effort you've put into the billet-doux. Letters are one way for a couple to express feelings for each other, and that, in itself, will fortify the connection.
~~~
Find out more about Samara O'Shea by visiting her website: www.letterlover.net. And check out this fun trailer below for Samara's latest book on journaling, Note To Self.
***
LuAnn Schindler is a full-time freelance journalist living on the eastern slope of the Nebraska Sandhills on a dairy farm with 200+ holsteins. She currently blogs for The Muffin, the WOW! Women On Writing daily blog, and is a columnist for Premium Green. Her work has appeared in the Pregnancy, 2: The Couples Magazine, Denver Post, Rural Electric Nebraskan, Absolute Write, in addition to other publications. LuAnn is a member of the National Federation of Press Women and Nebraska Press Women.