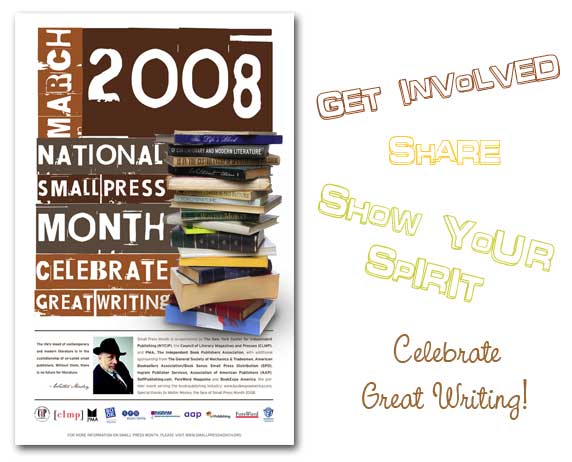 Small Press Month is a nationwide promotion highlighting the valuable work produced by independent publishers.
Now, in its 12th year, this year's slogan is Celebrate Great Writing with a quote from Walter Mosley, author and long-time supporter of independent publishing:
"The life's blood of contemporary and modern literature is in the custodianship of so-called small publishers. Without them, there is no future for literature."
Small Press Month.org spokeswoman, Karin Taylor took a quick minute out of her prep schedule to answer a few questions for WOW!
WOW: What is the Small Press Month.org's mission?
Karin: The main purpose is to draw attention to the fine books published by indie presses.
WOW: That is such a huge undertaking. How did SPM begin?
Karin: Small Press Center was the initial name. Then the advisory board came up with idea for promoting small presses starting with a week, now it's an entire month-long promotion with national organizations: PMA, Independent Book Publisher's Association, Small Press Distribution, and Council for Literary Magazines and Presses.
This Year's Small Press Month is co-sponsored by:
The New York Center for Independent Publishing (NYCIP)
Council for Literary Magazines and Presses (CLMP)
PMA, The Independent Book Publisher's Association
Additional sponsors:
The General Society of Mechanics & Tradesmen
American Booksellers Association/Book Sense
ForeWord Magazine
Publishers Group West (PGW)
SelfPublishing.com
Small Press Distribution (SPD)
Ingram Publisher Services
Association of American Publishers (AAP)
BookExpo America
WOW: It's great to see so many well-established publishing industry entities supporting the Small Press Month mission! Is there a way writers can get involved?
Karin: There are many ways writers can get involved to help support small presses. Many of the ideas can be found on our website: https://www.smallpressmonth.org/todo/
One of the best ways to help is to contact your local bookstores and libraries to suggest they create a special small press display for the month of March.
Posters can be obtained from: Small Press Month Coordinator, PMA, Independent Book Publishers Association, 627 Aviation Way, Manhattan Beach, CA 90266; 310.372.2732; April@pma-online.org. Orders come in units of five.
WOW: Karin, thank you for an introduction to Small Press Month.org!
With so many wonderful small press books available, WOW! is encouraging its readers to support independent publishing by reading, reviewing, and recommending titles published by small presses—not just in March, but all year long!
WOW! picks some great small press titles to check out:
A Confederacy of Dunces by John Kennedy Toole
Broken For You by Stephanie Kallos
Charlie Wilson's War by George Crile
The Delivery Man by Joe McGinniss, Jr.
Small Press Month Calendar of Events planned for this year (click on the individual links for event details):
March 6
City Lights/Small Press Distribution
(San Francisco, CA)
New Lit Generation (Small Press Distribution) with participating authors.
Bowery Poetry Club
(New York City, NY) 7:00 p.m.
Woodland Pattern Book Center
(Milwaukee, WI)
March 7
Rain Taxi Reading Series
(Minneapolis, MN)
March 20
Powell's City of Books
(Portland, OR)
Smallpressapalooza
March 26
Symphony Space
(New York City, NY) 7:30 p.m.
A night of stories mined from the anthologies of The Pushcart Prize, the honored series that has featured the best stories, poems, essays and "literary whatnot" from hundreds of small presses for over 32 years. Introduced by series founder and Editor Bill Henderson.
March 28
Beyond Baroque Literary Arts Center
(Los Angeles, CA) 7:30 p.m.
The Poetry Center of Chicago
(Chicago, IL) 7:00-10:00 p.m.
Small Press Showcase featuring the best in independent literary publishing from the Chicagoland area.
March 29 & 30
Virginia Festival of the Book
(Charlottesville, VA)
March 30
WordTheatre
(Los Angeles, CA)
WordTheatre celebrates Small Press Month at Canal Club in Venice with short story and poetry readings.
Visit https://www.smallpressmonth.org for more information.