Writing for children is a tricky task. Not only must your content and vocabulary be appropriate for readers' age ranges, but the subject must be something that will arrest their attention as well. Children are notoriously fickle, and once their interests are lost, they are often lost for good. But how can you figure out what appeals to children? By interacting with them, of course! Don't let your hard work languish in the back of a bookshelf, or, worse yet, be used to make paper airplanes or impromptu portraits. Instead, carry out some informal market research before you start writing and your chances of success will virtually skyrocket.
Market Research
The term "market research" may conjure up images of corporate types in suits, but when it comes to writing for children, it pays to know exactly what's hot and what's not with the tots. Accessing your audience before you begin writing is arguably the best way to find out about your future readers' tastes, and this can go a long way towards informing your writing. Whether you want to make references to songs, slang, jokes, or activities, checking with the sources themselves is the best way to avoid embarrassing mistakes. Even if you have kids of your own, it pays to glean information from the widest cross-section possible.
Unfortunately, interacting with children can be fraught with tensions in this day and age, not the least of which is other adults suspecting ulterior motives in your actions. Rather than skulking about the school gates—which is almost sure to garner the wrong kind of attention—look for ways to interact with kids that meet everyone's seal of approval. Working with children, volunteering at a children's charity, observing children's habits at the park or mall, and even browsing goods and services aimed at children should all yield a wealth of information on the little ones' likes and dislikes with minimal effort on your part. If you're lucky, none of this research will even cost you a cent—and it might even make you a few!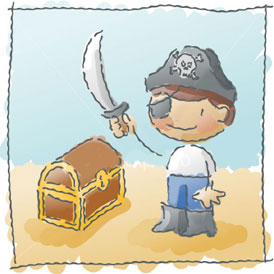 "Consider offering writing or poetry classes for children as a way to interact directly, or run a few "Mommy and Me"-type writing workshops..."
Work with Children
First of all, let's get real. If the thought of working with children is enough to make you feel queasy, then you might want to rethink why you believe you'd be a good children's writer. That's not to say that all great children's writers love all children, but it helps to at least like a few of them. If you haven't run shrieking from the idea that working with children will net you some invaluable knowledge about your readers, then congratulations, you're made of the tough stuff that will help you weather the day when a child tells you he'd rather eat worms than read your stories.
Of course, landing a job that will allow you to interact with children and retain enough energy for your writing might be difficult. Some fields, such as teaching, nursing and retail sales, will offer opportunities to work with children more readily than, say, motor vehicle maintenance. If you are already involved in a career that has options for working with children, by all means investigate them. Ask your supervisor or HR department about the possibilities of moving into more direct work with children, or come up with your own plan and pitch it to the big bosses. Remember, this may not always be feasible but it never hurts to ask. As any child will tell you, the worst they can say is no.
If you find yourself in a position that has no chance of involving children, then consider a weekend or otherwise part-time job. Children's boutiques and bookshops are great places to interact with kids, and there's always babysitting to guarantee some face-to-face time. Already a working writer? Consider offering writing or poetry classes for children as a way to interact directly, or run a few "Mommy and Me"-type writing workshops so that you won't have to be distracted with making sure that Sally doesn't fall out of her chair. For more ideas, check out Careers for Kids at Heart and Others Who Adore Children by Margerie Eberts and Margaret Gisler. Just remember to keep an open mind, particularly when the clown suggestions come up!
"Consider this: just one visit to a child in the hospital could result in an article about hospital volunteer programs..."
Volunteer with Children
If you see the value in interacting with children but can't afford to make a career change, or don't have the time to commit to a steady second or part time job, then consider volunteering with children. Whether it's once a week or once a month, regular volunteering gigs will help you help yourself and others. Volunteering will not only allow you to contribute to your community and the life of an individual child, but it will energize your writing with first-hand knowledge of children, and often pepper it with some amusing anecdotes, as well as leave you plenty of time and energy for the other parts of your life.
In addition to offering great opportunities for market research, volunteering with children can also be a rich source of inspiration for children's writers. Consider this: just one visit to a child in the hospital could result in an article about hospital volunteer programs, a feature on one of the nurses, a press release about upcoming hospital activities, or notes for a novel about a protagonist fighting a serious illness. Just remember not to spend your visits taking notes, but instead enjoy your time and worry about the writing when you get home.
For more information on volunteering with children, contact programs such as Big Brothers Big Sisters, The Freedom Corps or your local school, religious or community center. Nothing out there that appeals to you? Consider setting up your own children's book group, writing circle or dramatic society. Be sure to run your plan past all parents, however, and investigate if your city or town requires any documentation or background checks before you begin advertising for members.
Observing Children
Observing children is akin to walking a tight rope—one false move and your show is over. With good reason, many parents, teachers, coaches, and other adults charged with the care of children will become deeply suspicious if a stranger appears to be taking an interest in a particular child or group of children. Don't set yourself up for failure or interrogation. Pick a public place and blend in with the scenery. Try watching groups of children while you're walking your dog at the park, or make a mental note of the conversation between siblings at the table next to you at the food court. Take a count of the cartoon characters featured on the children's clothing, or keep your eyes peeled near the playgrounds to find out what kind of games are being played. With minimal effort, you'll likely be able to find out quite a bit about childhood today.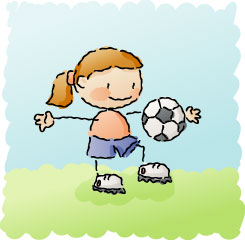 "The same goes for children's sports equipment (who knew there are so many different kinds of soccer shorts now?)..."
Obviously, there are certain rules that should be followed if you're going to engage in a fact-finding mission. First, don't ever follow a child or group of children, and leave the dark glasses and trench coat at home. Second, never approach a child without another adult present. If you would like to speak with a child approach the accompanying adult, introduce yourself and state your purpose, and never push your agenda—if a parent does not want you talking to their child, then you have no choice but to walk away. Third, never offer children treats for speaking with you. Stranger danger is real and present in most children's lives, and almost every child will have been warned about taking candy or other items from someone they don't know. Any adult who observes the transaction may also become suspicious. Finally, fit your observations into your daily chores and don't let them become chores in and of themselves. Though you may be perfectly harmless, no one else necessarily knows that, and you certainly don't want to become known as the scary woman who can't take her beady little eyes off of the neighborhood kids!
Browse Children's Goods and Services
If you are uncomfortable with the idea of observing children, consider browsing goods and services aimed at little ones instead. The phonebook and the Internet are two great ways of discovering what's out there without ever having to leave your own home. Browse salons to find out if any are catering to children, take notes of children's boutiques in your area, investigate what kind of birthday party supplies are currently popular, or research after-school programs and classes. There's not much that isn't listed in the phonebook or hosted on its own website these days, so make the most of these free resources. Not sure where to start? Pull up your local Chamber of Commerce website, or the official tourism website for a city such as New York, Paris, or Hong Kong. Follow a few links and before you know it, you'll begin to amass a great amount of information on modern toddlers, children, tweens, and teens.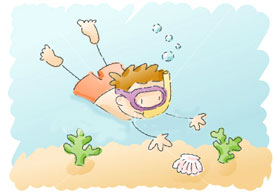 "...eat what they eat, read what they read, watch what they watch, and listen to what they listen to."
Once you're ready to pound the pavement, make some time to browse through the shops in your area. Look at the children's clothing and accessories to find out what's popular. Is Dora the Explorer still plastered everywhere, or has a new character taken over? Are Peter Pan collars still cute for little girls or are tank tops emblazoned with sequins now the norm? Whether you are writing an article on children's fashions or trying to make a main character believable, these details will make all the difference. The same goes for children's sports equipment (who knew there are so many different kinds of soccer shorts now?), toys (please don't make the mistake of thinking that Battleship is still en vogue), school supplies (Trapper Keepers are so last century) and more.
Another way to get in touch with today's children is to do what they do: eat what they eat, read what they read, watch what they watch, and listen to what they listen to. This may sound like a recipe for disaster, or at the very least, a headache, but break these tasks into smaller assignments and it should be smooth sailing. One afternoon, read a current children's book. The next day, flip through a children's magazine. Make time to try one of the (seemingly) disgusting lunch box meals that all the kids crave. Over the weekend, rent that box office blockbuster that makes the five year olds go crazy. Feel free to draw the line at endless hours of singing dinosaurs, but make a concerted effort to get in touch with child culture and your writing will blossom for it.
Finally, though you may think you have a few stand-bys waiting in the wings, always test your memories. If you can remember happily munching butter and sugar sandwiches, ask around before assuming that these are popular with children today. Likewise, for favorite pastimes such as reading Cinderella, watching the Sound of Music, playing Kick the Can, or listening to Raffi. Children's trends change quickly, and even some of the classics may be obsolete in modern pop culture. Don't just assume something will be perennially popular, test it out and you'll avoid looking out of touch later.
Though much of the writing for children is educational, good children's writers take the time to educate themselves before they ever set pen to paper. Accessing your intended children's audience, be it via employment, volunteering, informal observation, or an investigation of popular goods and services, are all means of finding out more about modern children and what they know or don't know, like or dislike, find fascinating or find fantastically boring. While it's not always necessary to adhere strictly to your findings (for example if you are writing fantasy or science fiction), for the most part, this market research will help keep your writing, fresh, clean, and most importantly appealing to children.
* * *

Beth Morrisey has written well over 200 articles on various subjects, in publications around the world. She's been a Freelance Writer for three years, with experience in print and electronic publications. Beth is an editor of various educational materials including essays, reports and brochures, two organizational newsletters and children's books. She's also experienced in American and British English copy-editing, proofreading, as well as, content editing.

Email: beth.morrissey@bethmorrissey.com