Patsy Rodenburg is Director of Voice at the Guildhall School of Music and Drama (26 years)and until recently at the Royal National Theatre (16 years). She is recognized as one of the world's leading voice and acting coaches. She has worked regularly with the best-known actors of the British theatre, including Judi Dench, Ian McKellen, Antony Sher, Daniel Day-Lewis, Simon Russell Beale, Ralph Fiennes, Joe Fiennes, Imelda Staunton, Sophie Okonedo, as well as many of the biggest stars of film and television such as Nicole Kidman, Orlando Bloom, Hugh Jackman, Ewan McGregor, Keira Knightly and Natalie Portman to name a few. She was previously in residence with the Royal Shakespeare Company (9 years) and also works with The Royal Court Theater, Donmar and Almeida Theater, London. She has also worked extensively with many of the great world theatres including the Moscow Art Theatre, Complicite, Cheek by Jowl, Comedie-Francaise, etc. She recently directed a very successful and critically acclaimed production of King Lear in Los Angeles.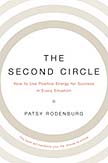 Patsy Rodenburg's latest book, The Second Circle, shows you how to focus energy and improve your life—at home, at work, and in every situation. Her remarkable program transforms your negative patterns of energy into a positive presence through easy-to-apply exercises. What a perfect way to start of the New Year and begin a journey that will help revitalize your life!

Visit Patsy's website at www.patsyrodenburg.com
1. Welcome Patsy, we're thrilled to have you chat with WOW! today. Since many of our readers are probably curious about your book title, The Second Circle, I'll start off by asking you to please define the three circles of energy.
The Three Circles of Energy describe how your energy connects to the world and where your presence is focused.
When you are in First Circle, you are connected and focused on yourself. This focus can be seen and heard in a collapsed body, an averted gaze, and a voice that drops back into you.
When you are in Second Circle, you are fully present in the world because your energy is placed on specific points outside of yourself. When you arrive in Second Circle, you have charisma, and if you catch the eye of another person in Second Circle, a powerful connection has been made.
Third Circle has a generalized connection to the world. People in Third Circle look past you, take up more physical space, and often speak too loudly.
You need all Three Circles, but it is my belief that our lifestyle is placing the powerful and present Second Circle at risk.
2. Why do we want to communicate within the Second Circle?
Second Circle is your natural state and when you are in it, you are present, alert, and available to others. You listen accurately and actually are more likely to survive. We all remember those people who are in Second Circle.
3. How can we start to move toward the Second Circle?
You can start to enter Second Circle by noticing the world around you. Take time to look and listen to others without immediate judgment or censorship. Look at familiar objects again and listen with full concentration to music you think you know.
4. I know it's quite an involved process that takes daily practice, but is there an exercise that you can share with our readers that may benefit them immediately?
Try walking with energy and then stop and look around you. Breathe deeply and as calmly as you can. Keep your shoulders released and lift your gaze up from any downward tendencies. Keep your spine up but not rigid.
"The way someone breathes exposes all her power, fears, and stress."
5. When did you first discover, or define, these circles of energy?
I started to define the Three Circles of Energy over 30 years ago. I believed then, as I do now, that we are all more powerful and present than we allow ourselves to be. I started to look for the physical, intellectual, and emotional manifestations of presence and the blocks we all have in our bodies, minds, and hearts that tragically disengage us from presence. We can only be effective when in Second Circle in performance, survival, and intimacy. Until we are in Second Circle we cannot see each other's humanity.
6. How can we make the most out of our everyday connections?
There is no intimacy without an equal exchange in Second Circle. Consequently, if you don't make regular second circle contact with loved ones, the love is not manifested. You can be alone in a room with a partner if you both stay out of Second Circle with each other. If you make Second Circle contact with people around you then you are better known and actually safer in your community. There is no community without Second Circle.
7. What about Internet and online communication? How can we use your advice to make the most of our online relationships?
As technology increases your ability to communicate to more people, it can also destroy your connecting in Second Circle. Technology can encourage casualness in your communications. There is a very simple rule: if a communication matters to you, be it on a telephone, email, or text, do it in Second Circle.
8. What are some of the threats, fears, and spoilers that prevent us from obtaining our positive energy?
All Children are present until it is knocked out of them by parents, peers, or teachers. All readers will have some memory of their lost presence squashed by even the most casual remark. At the moment, we are in a time when cool is fashionable and profoundness is sneered at. Spoilers mock us out of our Second Circle, are cynical to our aliveness, and sarcastic to our passions.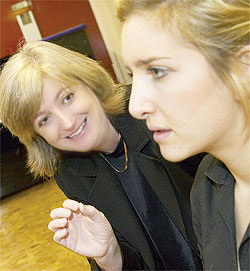 "My students know that they have my full Second Circle attention when I teach them..."
(Photo: Clive N. Totman)
9. Are there any professions that are typically more reliant on becoming successful within the second circle?
Every successful actor, athlete, and CEO can harness Second Circle when needed. However, we all need this ability to succeed in any important endeavor or relationship. It seems to me that any career that involves dealing with other people should be conducted in Second Circle. We all want our doctors, law enforcers, teachers, and religious leaders to be present with us in Second Circle.
10. You also work with CEOs and Fortune 500 companies. I'll be honest with you—as a CEO of an all-women team, I tend to develop close relationships with my co-workers on a personal level, and get actively involved in their dreams, goals, and success. Sometimes, I wonder if I'm not showing strong leadership skills. In your opinion, what are some keys to developing a good balance of friendship/leadership with employees?
Good leaders should be in Second Circle with those they lead. If this connection is established, then the leader will sometimes have to clearly and in Second Circle establish boundaries as good parents have to do. There is no offence when boundaries are explained clearly from the start of a relationship, but there is distress when they are imposed at a later date.
My students know that they have my full Second Circle attention when I teach them, but that they can not gossip with me in the corridor. Actually, this makes them feel safer; they are relieved that structures are in place.

11. Do you think there's a difference between how men and women handle their business relationships?

All great leaders are in Second Circle—men and women. However, and this is a huge generalization, many men gravitate towards the bluff energy of Third Circle and many women towards the energy of denial contained in First Circle.

There are many reasonably successful men who have achieved some status through Third Circle. Middle management is packed with them. Unfortunately, many women have imitated men and go into an aggressive Third Circle rather than seeking the more powerful and balanced energy of Second Circle.

12. In The Second Circle, you devote a couple chapters to breath. We know that in birthing, or Lamaze, breath is particularly important, but what does how we breathe say about us as a person?

The way someone breathes exposes all her power, fears, and stress.

If you can breathe calmly and fully in front of an audience, you can control them as they will breathe with you in Second Circle. A First Circle breather panics an audience as they gasp and struggle for oxygen. A Third Circle breather takes the oxygen away from an audience and blocks their responses.

13. You also write a lot about voice, and have some wonderful questions that help us determine if we are a first-circle speaker, or a third. With many of our women writers now delving into public speaking, what would you recommend they do to get over the initial fear of conquering the podium?

One of the greatest tips I can give about public speaking is an extension of being in Second Circle. Know that the story you are telling is more important than your fear. Climb onto the podium with energy. Look around your audience, breathe to them and care for them, and remember you can't make them like you.

14. As writers, most of us have a keen eye for detail, are extremely aware of our surroundings, and process all these elements into words on paper. For us advanced types, what would you recommend to "get in the zone" and write about our experiences?

Write in Second Circle. A focused pace around the room will place you there before you begin. Keep breathing fully as you write. If you sense being dazed, pace again. Read your writing out aloud to an imaginary listener, not to yourself. Record it and listen to it days later, but listen in Second Circle. Remember, speaking came before writing and only fully communicates when the speaker is in Second Circle.

Are you a First or Third Circle Speaker?

When you speak, do you notice people leaning into you (First) or backing away? (Third)
Are you asked to repeat yourself? (First)
Do you feel you force people to listen? (Third)
Do you give up or trail off sentences? (First)
Do you think that volume will control the listener? (Third)
Do you find yourself droning on (First) or manufacturing your voice to be more interesting? (Third)
Are you aware of people tuning out when you speak? (This last point can be true in either First or Third Voices)

Qualities of the Second Circle Voice:

- It cares about reaching the listener and is generous in touching you.

- It is a flexible voice, which reflects what is being said and reveals rather than hides content.

- It is an interesting voice, and recognizes the listener's presence by being neither too soft nor too loud.

- It is an effortless, vulnerable, clear and intelligent voice, which has an immediate impact on the world.

- It is a voice that encourages the listener to think, "Go on."
"I do believe that we are called to face our fears. I entered voice work to understand my fear."
15. Patsy, as an author of numerous books, do you have a set outline or schedule?
I've never had the luxury of taking time off to write. I wrote my first books in the evening after teaching all day. I can't do that now, I have to write in the morning between 7am and noon and then teach. I do go to my farm in Portugal to edit and that is done in the early morning before it gets too hot.
16. When did you first get the writing bug?
I wrote poetry as a child. In fact, I wanted to be a poet but was daunted by all the great poems I read. I never planned to write a book; I was asked. So, being published is a joy I never expected.
17. Can writing or journaling help people enter the second circle?
Words are magical and when they are spoken or written in Second Circle, they make the world concrete and somehow bearable. If you write a journal, the parts of your life that matter to you will be written in Second Circle. Inspiration is the intake of Second Circle breath and our words then witness our experience of life.
18. Switching gears here a bit... Patsy, you're recognized as one of the world's leading voice and acting coaches. That's quite an amazing achievement! How did you first get into this line of work?
As a child, I had a considerable fear of speaking. I was sent to a speech specialist but continued to fear communicating. I do believe that we are called to face our fears. I entered voice work to understand my fear. I taught very early in my career in prisons and that also gave me a sense of lost voices. I feel useful when I teach and therefore I teach.
19. Like many of our readers, I haven't a clue of what goes into being a voice or acting coach. I'd love to know the basics; for instance, what happens after you get hired to coach an actor? I know each job is very different, but could you explain what you do so we get an understanding of how the process works?
My work is very varied and complex. In its simplest forms, I help an actor use their voice and understand a text. I am seeking audibility, sense, and emotional connection to the audience and the words of a play. However, I also deal with the performers fears and their relationship to other actors and the director. No job is ever the same as the one before.
20. You've worked with so many amazing actors. Was there ever a moment when you stepped back a bit and became the least bit star-struck, or were amazed that a famous celebrity was learning under your tutelage?
I cannot be star struck because if I was I couldn't help them. Fame isolates people and the last thing they want from me is isolation. I have to respect everyone I work with. Some are stars and many aren't, but it is their talent and humanity I work with, not their fame.
Thank you Patsy for joining us. Do you have any parting words, or a favorite quote, you'd like to share with our women writers/readers?
I believe the world needs now, perhaps more than ever, the thoughts, hearts and spirits of women. If the planet is to be saved, women will find a way towards peace and tolerance, but only if they connect to themselves and others in Second Circle.
* * *
Find out more about Patsy Rodenburg, her books, and current workshops she's teaching by visiting her website: https://www.patsyrodenburg.com