o, you've written a couple of articles, and you watch to keep querying so you can break into bigger (and better paying) markets. How about creating an online portfolio?
To get you started, here are a few effective online writing portfolios along with commentary from their creators: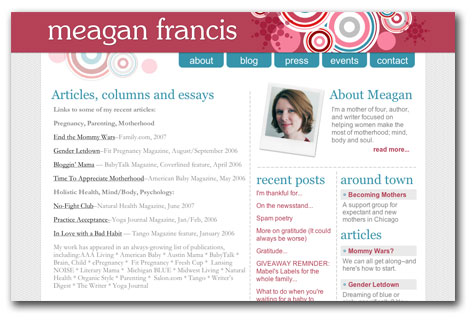 Meagan Francis,a freelance writer, book author, and mother of four children, has a simple, but effective website which proves that you can create a good website without spending tons of money on it. Meagan recently hired a designer to revamp site, and I love the new look. The dark text on a white background is easy to read, and the red swirls reflect Meagan's fun, whimsical take on parenting and other writing topics. Plus, she doesn't overwhelm the reader with too many clips. Instead, she chooses a few good ones in her main areas of expertise, and at the bottom, mentions the other places she has contributed.
Here's what Meagan says about her portfolio: "So many editors go straight to my website and check out my clips there. Sending them in the mail can be time-consuming and expensive, so I try not to do that unless an editor specifically requests it. I've also had editors stumble across my website and assign me work based on my clips and authority in certain areas."
She continues, adding, "You start building momentum this way—you get more assignments because of the clips on your site and you get more clips from those assignments which leads to more assignments from those clips..."
The clips section of Meagan's website clearly shows that she focuses on family and health articles. She explains that "I wanted editors I was approaching to be able to quickly find clips that were relevant to their publication, and also to be seen as an authority in the family/mothering and wellness/mind-body areas. This is important to me, not just for magazine work, but also for future book projects."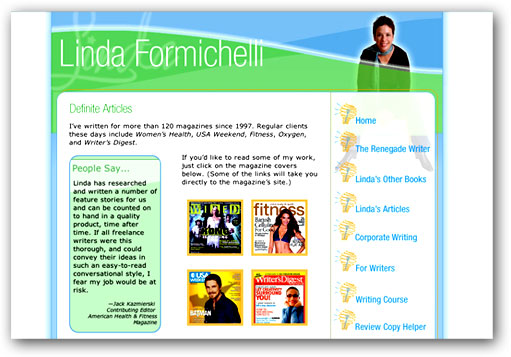 Linda Formichelli is known to many aspiring writers as the co-author of The Renegade Writer: A Totally Unconventional Guide to Freelance Writing Success and The Renegade Writer's Query Letters That Rock. Linda has written for literally hundreds of magazines about dozens of different topics. With so many great clips, Linda has the challenge of organizing her clips without overwhelming the user (wouldn't we all love to have that challenge?). Her portfolio is effective because, like Meagan above, she organizes her publishing credits by category and uses a few really strong clips as examples, rather than showing off everything.
Since she's also quite established, Linda enlisted the help of a web designer. Here's her advice for finding the right web designer: "You know how magazines always tell you to find a great hairdresser by asking a woman whose hair you love where she got hers done? Well, you can do the same with web designers: find sites you like, and then e-mail the owners to ask who designed them and how the designers were to work with."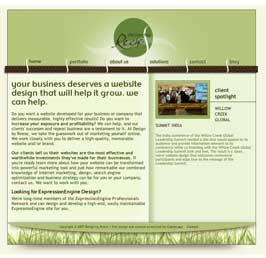 Linda chose Reese at Design by Reese, who used magazine covers to highlight some of Linda´s best work. This technique is widely used on other writing sites and shows off the writer's versatility. As Linda explains, "The actual articles that pop up when you click on the covers are in plain text, which load faster and are easier to read than scanned articles in a graphic format." (Good point, Linda.)

But she also points out that "Some editors don't like to make the effort to follow links to read your clips on a website, so don't restrict yourself to online clips. I also have many of my clips in PDF format so I can e-mail them as attachments directly to the editor, and I sometimes even paste the text version of a clip right into the body of an e-mail."
Louise Sloan has a website that's easy on the eyes and clearly demonstrates her writing skill. This former editor and frequent contributor to publications, including Glamour, Self, and the Chicago Tribune, organized her clips according to the type of story (feature, profile, op-ed, etc.) rather than the topic. I love how she puts each type of article on its own page, because it demonstrates her versatility without overwhelming the reader. She also uses a tab for "favorites," which is a nice way to showcase the clips that she's most proud of.
Louise says she chose to organize her clips by the type of story because, "As a magazine editor, I look to see how a writer handles the type of story I am assigning. When assigning, I want to go straight to whatever writing sample is most relevant for my publication. Having to wade through a variety of articles arranged chronologically would be an annoying waste of time. In organizing my website, I worked under the assumption that other editors would feel the same way."
Louise hired a designer friend to create her website, which helped her land a book deal! "Mainly, I think having a professional-looking website may make editors more confident about assigning to me," she notes. "It makes showing my work easier for me (no more digging through musty boxes for just the right clip) and it's also easier for editors to browse through my portfolio this way."
In terms of how many clips a writer should include, Louise says, "Don't include all your clips, only the best. Organize them according to category, and include captions and thumbnail descriptions so the editor doesn't have to read each clip. Make sure the design of your site is simple and easy to understand, and in line with the look of the publications you want to write for."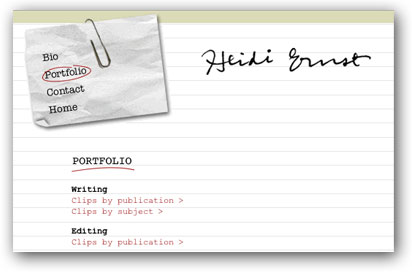 Heidi Ernst, a freelance writer/editor and former deputy copy chief for In Style magazine, has a writing-themed site with her clips arranged two ways: by subject and by publication. She also separates writing and editing clips. I love Heidi's website, because it's unusual but simple to navigate.
"I wanted my site to be easy to navigate," she notes, "and I figured one person might want to see all of the business stories I've written, for instance, rather than search a list of publications to try to determine which were business stories, while another person might be more interested first in seeing the variety of publications I've written for rather than subject matter."
Heidi even lists the file sizes of her PDFs so editors know what they're getting into when they click a clip. "I worked really hard to get the best-looking, highest-res clips I could, mostly from the publication's own disk archives, because if people can't read the PDFs or JPEGs, what good is the site?" she points out. "I looked at a lot of writers' websites before I started thinking about what I wanted, and I was really amazed at the number of blurry clips out there that couldn't even be read!"
Use high-quality scans or plain text to ensure that editors can read your clips.
Choose categories or groups that fit your writing projects (and make it easy for editors to understand).
Find a design or a designer that reflects your writing style and the publications you write for.
If you're linking to articles online, make sure you or your designer will be able to update periodically in case a URL changes!
Browse other writers' sites to see what you think works (and what doesn't).
~~~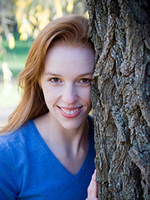 BIO:

Susan Johnston is a Boston-based freelance writer who has written for print and online publications including MediaBistro.com, Writer's Weekly, and others.

Learn more at www.susan-johnston.com or at https://www.theurbanmuse.blogspot.com.