wasn't until the other night that I read the prefatory note of Wendy Miyake's new book, The Bodhisattva Club, with the understanding that comes from being fully present in the moment:

When I read these pages now, I almost don't recognize myself in the story, as if I had become one of my fictional characters. But The Bodhisattva Club is the result of my own experience with the Virgin Mary and our travels together in France. It is based on my perception of the events that transpired but with the passage of time and my own internal changes, the book now certainly feels more like a novel. I thank all the people that I wrote about in this book. Most of your names have been changed, but your lessons and the time we shared together will never be forgotten...
–wendy miyake
paris, france
may 2007
Reading the note, I realized that Wendy and I had taken important trips at the same time: I to Charlottesville, where I stayed with my friends Gary and Karen Mawyer, met the Mawyer clan, and got to see the beautiful Virginia and West Virginia countryside; and she to France. One result of my journey was an editor's note for mixed nerve, an e-zine I started in 2006. One result of Wendy's was her second book, The Bodhisattva Club.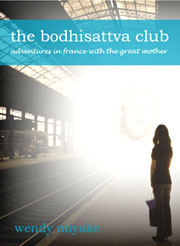 "...I found her to be a live wire: she spoke a

mile a minute, radiated the energy of a

nuclear reactor, and was both self-

depreciating and outrageously funny."
I'd bought the book at a launch party held in early October at the Wedding Café in Manoa Marketplace, a shopping complex in Manoa Valley, a residential area mauka (mountainside) of the University of Hawai'i campus in Honolulu. The Café caters to people who are about to get married, offering a space in which they can have showers, plan their weddings, and so forth; it also serves people who want a comfortable, well-designed place in which to have a good meal or hold a party.
My friend Kathleen, a colleague of Wendy's in the English department at Leeward Community College, had received the party invitation and invited me to join her. We arrived shortly after 1 p.m., early enough to get a good seat and to linger over the Wedding Café's sumptuous offerings at the food-and-beverage table: platters of freshly made turkey and tuna sandwiches; tiers of pumpkin crunch, chocolate, toffee, and other desserts; a white cake with strawberry filling between the layers and big chocolate-covered strawberries on top; and beverages that included a delicious plantation iced tea.
Listening to Wendy address the crowd of about forty people, I found her to be a live wire: she spoke a mile a minute, radiated the energy of a nuclear reactor, and was both self-deprecating and outrageously funny. I bought The Bodhisattva Club and finished the 200-plus-page book in two days. Soon thereafter, I wrote to Angela Miyuki Mackintosh and suggested that WOW! interview Wendy. Here is part of my message to Angela:

With her family, [Wendy] has established Lotus Moon in Love, a publishing company, and has published two of her books...

Wendy's work covers the categories of fiction, nonfiction, travel writing, and spirituality, and she can also speak, of course, on the topic of self-publishing. She is a remarkable thirty-something, and she has written a remarkable book. I found that once I started The Bodhisattva Club, I couldn't put it down, despite the unlikely premise. A book of nonfiction, it is an account of her journey to Lourdes after a visitation from the Virgin Mary and conversations with her. They talk about love, need, feminine spirituality, and so forth, and Wendy's accounts of these talks and how they affect her journey through France charmed, entertained, and impressed me.
Angela wrote back swiftly and agreed to publish the interview. "Would you do it?" she added.
***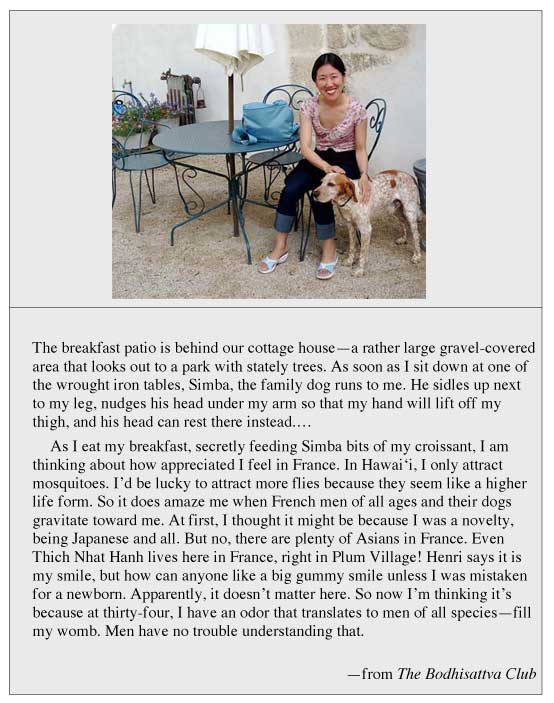 In addition to being the author of two books and the head of Lotus Moon in Love, Wendy Miyake is an adjunct instructor in fiction and autobiography, a self-described card-carrying Buddhist, and a multi-talented young woman who is teaching herself book and web design. In 2001 she won Honolulu Magazine's fiction competition with her story "GetMyMoi.com," and her award included a trip to the Maui Writers' Conference, an annual gathering that is Hawai'i's splashiest literary event. With her, she took a manuscript about Spain for which she hoped to find a publisher.
Pat: So what happened at the conference?
Wendy: At the time of the conference, I was fairly naive. I thought that I would go and some agent would show some interest and then poof! I would be a published writer. But I think it was my first experience with the business side of publishing and I was very disillusioned by it. Publishers often do not publish good writers. They publish what will sell. So, when I figured that out, I spent the rest of the time there eating in restaurants and getting a massage and meeting new friends. So all was not lost.
"I was moaning about the rejection

letters I kept getting publishers and agents

when a friend of mine suggested self-

publishing. I thought she was crazy

but in the end, she was right."
Pat: And did that experience lead to the creation of Lotus Moon in Love?
Wendy: I started Lotus Moon in Love originally as a jewelry company. I loved making jewelry, but my first love will always be writing. I was moaning about the rejection letters I kept getting from publishers and agents when a friend of mine suggested self-publishing. I thought she was crazy but in the end, she was right. If I self-published, I could have creative control. That's something I wouldn't be able to have with a big publisher. So I went for it.
Pat: How did you decide on the name Lotus Moon in Love?
Wendy: Well, being Buddhist, I have always liked lotuses and the symbolic significance of the flower. It is a flower that grows to perfection from mud, and we can relate this analogy to our mind and heart and soul. That we want it to be pure even in the kind of world we live in. I have also loved the moon. That is something that my father and I share. But you'd be surprised how many Chinese restaurants are named Lotus Moon. And I wanted to get an email address with Lotus Moon and it was taken. So I'm sitting at the computer trying to think of an alternative and came up with "in love." I think love is truly the only real thing in this world. So in a way the name really fits the company and the kind of books we put out.
Pat: How do your parents participate in decision-making at Lotus Moon?
Wendy: We discuss business decisions collectively. One side of my family has a lot of entrepreneurs, and I really like that aspect. I love the entrepreneurs I'm meeting through my publishing work.
Pat: Tell us about the production of your books.
Wendy: Sheridan Books is my printer, and they are awesome not only in production and customer service but in rectifying problems fairly and quickly. They were wonderful to work with on both books. The artist for my first book was Wendy Hakoda, and she is a graphic designer. The person who drew the artwork is Wendy's friend Jason Oshiro. On the second book, a friend of mine, Karen Miyashiro, did the work. On both books I have had a hand in the concept—more so on the second book. I think it is important for authors to collaborate with the designer. There are wonderful designers out there, but a collaboration is necessary to truly get your message across.
I really like small books. I thought Beads, Boys and the Buddha was a little too big, but it was a standard size. After reading Banana Yoshimoto's books, I fell in love with the size. Small enough to put in your purse.
In terms of paper, we looked at a thicker paper for both the cover and the text. We wanted a larger spine since the spine is often all you see in a bookstore. For fonts, I usually put the manuscript into InDesign fairly early—to the dismay of my editor—and I print out usually the first two or three text pages and I keep changing the font until I find one that I like. I really like the font to express the essence of the book. The first book we used Garamond, which is very standard. And it worked for the kind of book it was, which was more literary. The second book is much more free. It is difficult to categorize in a particular genre. And I think the book also is an opening out for me creatively. That spirit had to be expressed in the font. We chose Caslon Pro because it was more open. For the Virgin Mary's font, I originally used Courier, but my editor said it looked weird, so we opted for Century Gothic. It is a nice, round sans-serif font that is very feminine like the Virgin Mary.
For this book, there wasn't really a lot of time for proofreaders, so my parents read the manuscript. Normally, I'll try to get a few friends to look it over. My editor is Areta Parle. I met her through a mutual friend. She is wonderful. I think it is hard to be an editor because you have to be a therapist, cheerleader among other things. A lot of things have to be negotiated in any given book because I am so strong willed and I have a certain vision for each book. But the collaboration always works well.
Pat: What does the Virgin Mary think of The Bodhisattva Club?
Wendy: She's very happy with it.
Pat: Was she present while the book was in production? If so, what kind of advice or counsel did she give you?
Wendy: I think the Virgin Mary is always present. When I'm working on a book, I don't necessarily hear her say "Change this" or "No, no, no, you got it wrong." It's more a feeling. I move toward what feels right. I don't really feel she gave me formal advice about the book.
The Virgin Mary still counsels me, and because I've learned some channeling techniques, I can formally talk to her when I want. I think she wants me to depend on my higher self. She wants me to be in the now. I tend to be stuck in the future or the past, and that prevents me from enjoying the present. And she doesn't want me to work all the time—although she does have other projects in mind that she makes a point of letting me know about.
Pat: Lotus Moon has a lovely website https://www.lotusmooninlove.com. Who does your design?
Wendy: I do all the design for the website. If you told me three years ago that I'd be designing my own website, I would have thought you were crazy. I have had to learn pretty much all the Adobe programs—InDesign, Photoshop, and Illustrator—and when I get into trouble, I call my first cover designer, and she talks me through it. I love the website because it is not just text. The pictures also tell a story. My friend Horacio Rojas is the tech man. He is the one who uploads all my pages to the website.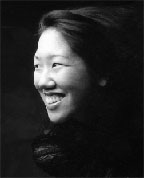 "I don't fit in neatly, but I've gotten to the point where I'm ok with that."
Pat: At your book launch, you said that your father has had spiritual beings visit him, and at our lunch at Brasserie du Vin [a French tavern in downtown Honolulu], you said that you can see your nephew is developing spiritually. Can you say more about their spiritual lives and the ways in which they overlap with yours?
Wendy: My father has had spiritual experiences happen to him. He has had a lot of relatives visit in dreams. My nephew is, since the time he was young, very, very psychic. He can sniff out a fake person for sure. And he knows things that he couldn't possibly know at that age. I try to make time for him and talk about these spiritual things so that he sees it as normal.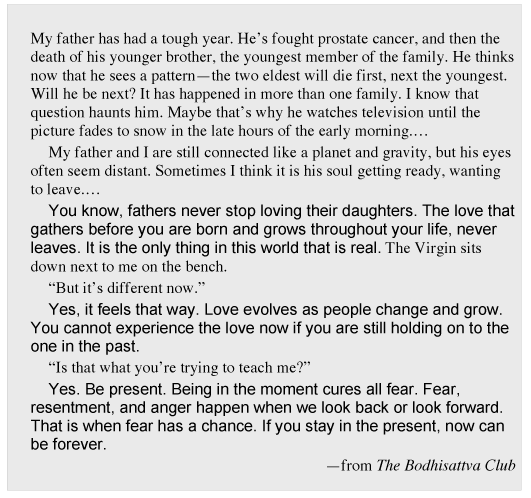 Pat: At the launch, you said that you changed your nephew's name in the book in order to protect him and that he was unhappy about it because he wanted to see his name. Are there any other fictional elements in the book?
Wendy: Yes, I created the Reverend because I had to explain the concept of the bodhisattva. But that was the only other fictional thing.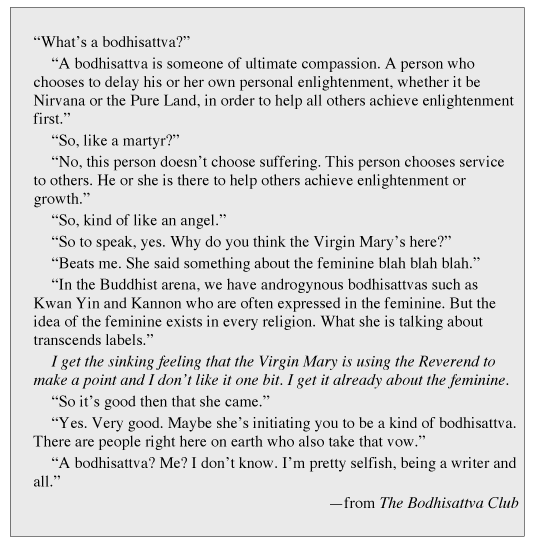 Pat: At your launch, you said that it was difficult being a spiritual person. What about being a spiritual writer? How have people responded to your second book?
Wendy: As a writer, it's just as difficult. I don't fit into any of the neat categories. However, there has been a very, very positive response to The Bodhisattva Club. My friends like this second book more—male and female friends.
Pat: What about your colleagues? Do you feel they take your writing seriously?
Wendy: Yes, though if I were more of a literary writer, that might make it better. I don't fit in neatly, but I've gotten to the point where I'm ok with that. I don't have real writers I talk to, but then I'm quite antisocial. I don't like to talk to people most of the time—except for my students and senior citizens, like my uncle.
Pat: It sounds like you're close to your parents too.
Wendy: Yes, I am.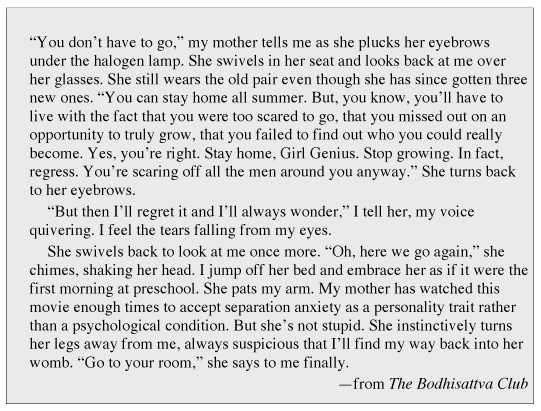 Pat: Anything you'd like to say about your future or Lotus Moon's?
Wendy: I hope to publish the novel I took to the Maui Writers' Conference next—I love that one, and the people I talk to about it want to read it now. I am also working on an anthology called The Male Project. I really want to hear true male voices. I think in our culture, we don't get to hear those voices and there's a lot of them out there. Women think they know what men are thinking, but I think a lot of them have their own truth. And maybe it's about time we listen. I will also continue to work with the Virgin Mary on some new projects whatever they may be. I haven't had a big urge to travel anywhere yet, so we'll see.
***
More about Wendy Miyake:

Wendy Miyake's first book was published in 2005 and contains her award-winning story "GetMyMoi.com. " Reviews included those published in the Honolulu Weekly and Honolulu Magazine.

https://honoluluweekly.com/cover/story-continued/2006/06/local-emotions/ https://www.honolulumagazine.com/archives/1205/1205_books.aspx

The following ad for Wendy's two books appeared in the November 2007 issue of Tricycle, a Buddhist magazine.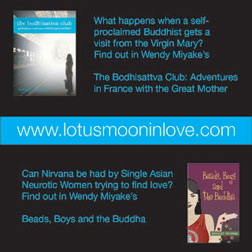 Wendy's books are available in Hawai'i at Borders Ward Centre and Native Books/Na Mea Hawai'i.

They are available online at the Japanese American National Museum https://www.janm.org/

Visit Wendy's Website:
https://www.lotusmooninlove.com


***
BIO:

Pat Matsueda was born in Japan but has lived in Hawaii for most of her life. Since January 1990, she has worked at the University of Hawaii: for two years, she was a technical editor at the university's Water Resources Research Center, editing reports, conference papers, and journal articles; and since April 1992, she has been the managing editor of Manoa: A Pacific Journal of International Writing. She has also edited and published a few of her own journals, the latest of which is Mixed Nerve, an e-zine. In January 2006, a collection of her poetry was published by El Léon Literary Arts and Manoa Books.
Pat is also a member of the WOW! Women On Writing Alumni! (Previously published on WOW!). Her inspirational interview can be seen in WOW's August Inspiration Column.
To find out more about Pat Matsueda, please visit her links:

Mixed Nerve: https://mixednerve.org/

Mindful Shopping: https://mindfulshopping.wordpress.com

Edit Hawaii: https://edithawaii.blogspot.com

Manoa Journal: https://www.hawaii.edu/mjournal/

Pat Matsueda's Home Page: https://homepage.mac.com/pmatsueda/