Caldera in Sisters, Oregon
www.calderaarts.org
Caldera has been offering retreats to professional artists and writers since 2001. The program has brought nearly 200 artists to our site from as far away as Australia. The community at Caldera is intimate and no more than five artists are scheduled at a time.

Two-and four-week retreats are awarded to selected artists and writers from November through March. Each artist is given a private creekside cottage and the time to concentrate on their work.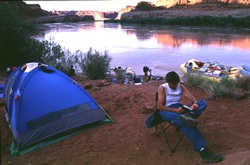 Women's Writers'
Retreat through Cataract Canyon
www.griffithexp.com/trips/women-only-colorado-river-6days.htm
Highlighted in O Magazine as "One of Six Great All-Girl Getaways"

The 6-day Women's Writers' retreat through Cataract Canyon offers an adventurous sojourn into nature. This one of a kind vacation is hosted by acclaimed author Page Lambert. Recipient of a 2004 Literary Fellowship from the Wyoming Arts Council, Page Lambert was described in "Inside/Outside Southwest Magazine" as one of the most notable women writers of the contemporary West.

Page Lambert will be facilitating river-writing journeys for women in Utah's beautiful Colorado Plateau. Whether writing in your personal journal or writing for publication, being submerged in the natural world unleashes powerful creative energy. Personal writing time is woven into the moments between floating down the Colorado River, hiking at your leisure, or relaxing on shore. Beginning with breakfast, seminar material is presented at the river's edge, and then continues throughout the day, ending with readings under the stars. Material includes fiction, creative nonfiction, memoir and poetry. "Women rediscover an important part of themselves in the natural world," Page says. "We move and inspire each other in uniquely feminine ways."

Writer's Retreat in Fiji
www.mauiwriters.com

March 30-April 6 at the Outrigger Fiji Retreat Extension, April 6 - 8

at Castaway Island Fiji Imagine yourself far away from your hectic, responsibility-laden life. Imagine that for once it's all about you and your writing. Imagine yourself on a secluded beach in Fiji with the inspiration and the time to really write. Now imagine that the best teachers in the world are mentoring you. Paradise!
Join us for a weeklong writing retreat at the 5-star Outrigger Fiji. Then, if you choose, you can travel on to the world-renowned Castaway Island, for two unforgettable days of solitude and camaraderie. From there you can visit New Zealand and Australia, just a short hop away.
Take Your Writing to the Next Level
Experience an unforgettable, life changing week in Fiji being mentored by a faculty of blockbuster authors and a seasoned screenwriter/producer who are also master teachers dedicated to helping you become the best writer you can be.
7 days of intimate, hands-on, one-on-one tutoring honing your writing and developing your craft. Your work will be critiqued before you get there, so you can start working on your book as soon as you arrive.
There's also a Booklover's program in the evenings with our bestselling author bookclubs and "Hollywood Insider Night."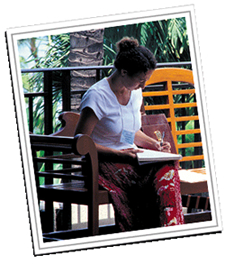 Maui Writers Retreat
www.mauiwriters.com/retreat/index.html

Saturday, August 23rd - Thursday, August 28th, 2008

The Writers Retreat is six intense, inspiring days learning the art & craft of writing. In these intimate, hands-on groups, the emphasis will be on how to shape and present a saleable manuscript or screenplay. To that end, you will write and revise, have your manuscript critiqued, and revise some more. You'll learn in a variety of settings, from workshops to free-wheeling mentoring sessions to seminars. This is an unprecedented opportunity to transform your writing.

The Porches: A Writing Retreat on the James River

porcheswritingretreat.com/tour.html
The Porches writing retreat is an historic farmhouse built in 1854, overlooking the James River in rural Virginia. We are a half hour from the Appalachian Trail, 50 minutes from the the University of Virginia in Charlottesville, 1 hour from Richmond, 2 hours from Williamsburg and Jamestown, and 3 hours from Washington, D.C.
About Us
Trudy and her husband Billy Hale, an Emmy Award winning film and television director, traveled and lived on location, shooting in France, England, Spain, and Thailand. While raising their two children, Trudy worked as a script analyst and began writing short stories. She received her MFA from Antioch University and taught writing at Pierce College, Los Angeles. Browsing the internet, the couple discovered an antebellum farmhouse on the James River. They moved to Virginia and renovated the historic home. Trudy opened The Porches in July, 2006. She is currently Fiction Editor of Streetlight, a Journal of Art and Literature, and is working on a novel.

 Soapstone

www.soapstone.org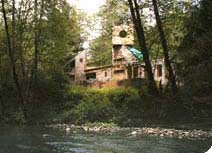 Soapstone provides women writers with a stretch of uninterrupted time for their work and the opportunity to live in semi-solitude close to the natural world.

In addition to that rare but essential commodity for a writer—a quiet space away from jobs, children, and other responsibilities—Soapstone provides something less tangible but also invaluable: the validation and encouragement necessary to embark upon or sustain a long or difficult writing project.

Located in Oregon's Coast Range, nine miles from the ocean, the retreat stands on twenty-two acres of densely forested land along the banks of Soapstone Creek and is home to much wildlife. The writers in residence enjoy a unique opportunity to learn about the natural world and join us in conscious stewardship of the land.

Soapstone is set up for two writers at a time, each with her own writing studio. From an applicant pool of 300 to 400, approximately thirty writers each year are awarded residencies of one to four weeks.

Located in Oregon's Coast Range, approximately nine miles from Nehalem, the retreat stands on 22 acres near the confluence of two fresh water creeks fed by a spring water lake. The combined stream flows as Soapstone Creek for half of a mile through the property. The land is densely forested with cedar, Western hemlock, bigleaf maple, cascara, red alder, and Douglas fir. In spring wildflowers carpet the forest; in summer red huckleberry and elderberry bushes flower and fruit; in fall the red and burnt umber of vine maple and Oregon grape stand out against the many rich greens of fern and moss. We have cut out trails and a small meadow, but otherwise have left the property in its natural state.

What do you think of these writing retreats?
Do you have suggestions you dream about? We'd love it if you'd share with us and our readers. Drop us a line. Let's continue to inspire each other!