The Portable Writer
You are a beautiful butterfly! As a writer, you have the ability to take your career with you wherever you go. All you need is your favorite writing utensil—whether pen and paper or tablet or laptop—and your creative, free spirit. Yes, we all have responsibilities and commitments at home; but it's great to have the security of knowing that with a little ingenuity and portable devices, you can take your livelihood with you.
I developed a case of wanderlust early on. When I was twenty-one, I decided to pack my bags and drive down to Mexico to live the life of a painter. I found a three-bedroom house on the beach in southern Baja,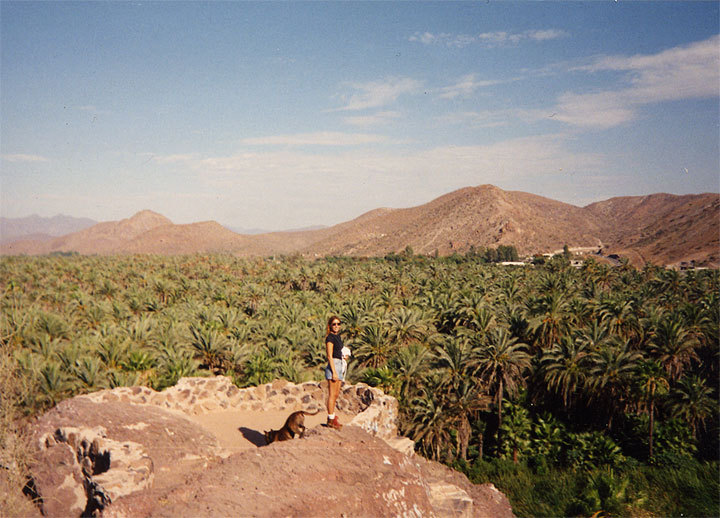 where I lived for nearly a year, while I worked on my portfolio and journaled about my experiences with the locals. At only $200 a month (this was in 1993, mind you), I could afford it, as long as I sold a few commissioned portraits here and there. And boy, do I have some stories. I brought my dog with me, so you can imagine the trouble my perro got into! Those stories are fodder for my memoirs, but that experience helped me develop a serious love of travel, reading, and writing.
Since then, I've lived and written in many places, and travel has gotten easier in some respects. Technology and portable devices allow us to pack lightly and tread gracefully to our destinations. The ability to do business online provides you with the freedom to choose where you want to live and work, and gives you a sense of place and identity wherever you are. A portable career is rooted in the desire to be wherever you want in the world while making a living doing what you love.
Whether you want to hole up in a library and work on a freelance piece or enjoy an espresso in Italy while penning your novel, you are bound to find some ideas on how to do it better in this issue. We share some new opportunities in travel writing and introduce you to some ladies who are making a living with portable careers other than writing—like online teaching, translation, publishing, and speaking. Want to drop everything and travel the world for a year? No problem. We have an article that shows you how to finance your trip and how to save money while you're traveling. Perhaps you'd like to read advanced copies of books for free while you travel and review them on your blog? There's a great resource we'll share with you. Need to build an author platform and take it with you wherever you go? We have a solution for you. We also talk to writers and find out where they like to work, and we chat with a handful of expert expatriates who share their best tips for building and maintaining a portable career, and so much more.
Are you ready for summer? Enjoy the sunshine and take your writing with you. For you are a portable writer!
A big, warm thank you goes to our freelancers and staff members:
What opportunities exist for travel writers these days? We open the issue with an article that catches up with the latest and greatest trends in travel writing. In Around the World in 80 Ways, WOW! columnist LuAnn Schindler chats with four talented writers from varying travel niches to get the scoop on what's happening in this highly competitive writing arena. A big thank you goes to LuAnn's guests: Maralyn Dennis Hill, culinary travel writer and president of the International Food, Wine & Travel Writers Association; Wanda Mann, a.k.a. The Black Dress Traveler; Lisa Napoli, author of Radio Shangri-La: What I Discovered on my Accidental Journey to the Happiest Kingdom on Earth; and Muriel Clark, assistant director, North Platte/Lincoln County Nebraska Convention and Visitors Bureau.
I'm always fascinated by the places and spaces where writers like to work, aren't you? It's like peeking into another world. We welcome back freelancer Janine Boldrin and thank her for her article, Books and Crannies: Living the Fairytale Life Outside the Castle. From castles to cafés, writers set up shop in many places, and Janine examines the pros and cons to help you decide if one might be a good fit for you. She also interviews Diane Chamberlain, best-selling author of twenty novels, including The Secret Life of CeeCee Wilkes; Laura Amann, freelance writer; Siobhan Fallon, author of You Know When the Men Are Gone; and Jenna Glatzer, author of twenty books, including Make a Real Living as a Freelance Writer—who all share their favorite spaces to write and why. Not to miss!
When not writing books, many authors I've talked to supplement their income by teaching online. It's one of the most lucrative ways to support your creative pursuits and allow you time to write. It's also one of those portable careers you can take with you wherever you go. To find out more about the world of online teaching, we invited freelancer and instructor Susan Gabrielle to share her knowledge in Teaching Online = Writing Time. She also talks to instructors Christina Hamlett, Bonnie Hearn Hill, and Keisha Gregory who share their best tips for teaching in a digital age. Plus, there's a special section of teaching opportunities available for both those with a graduate degree and without one. This is an article you will definitely want to bookmark!
When freelancer Tiffany Jansen queried us for the niche writing issue, she suggested an interview with Jo Parfitt, an author and publisher known as the "expat expert," who's currently living in the Netherlands. In her query, she mentioned the phrase "portable career," and I thought, Gee, that's an excellent topic for an issue! So, I tweaked it a bit, created the theme The Portable Writer, and immediately e-mailed Tiffany to contract her story. Thank you, Tiffany, for inspiring this issue's theme! In An Expat's Guide to a Portable Career: An Interview with Jo Parfitt, you'll find out what types of markets exist for expat writers, whether you should specialize or not, what issues expat writers struggle with, building multiple income streams, and more.
Okay, I'll be honest with you. Being an editor is awesome! Sometimes it gives you the freedom to be a little self-serving, but you also hope that others will share your interest in a certain topic. Hence, this article on Japan! It's no secret that I am a hapa who would love to rediscover her roots in Japan and perhaps live there if she could. So when Suzanne Kamata suggested an article about writers making a living in Japan, I jumped at the chance! But this beautiful article is so much more than that. Foreign writers can take the knowledge shared here and apply it to their own location. In Thinking Outside the Book: Portable Careers for Writers in Japan and Beyond, Suzanne chats with three writers who launched their portable careers while living in Japan. These ladies have written extensively for a variety of print and online venues, but they've also parlayed their writing skills into jobs as public speakers, translators, editors, and producers of educational materials in Japan. A big thank you goes to Suzanne and her guests: Louise George Kittaka, the education expert; Deborah Iwabuchi, the translator; and Holly Thompson, the writing teacher. Japan, here I come!
So, we've touched on places writers like to work, including writing on the go; and we've covered portable careers that you can take with you, along with advice for living and working abroad, but what about the nitty-gritty of writing while traveling? Literally on the road—like from hotel to hostel or couch-to-couch? This three-article SLAM feature, Writers On the Road: Financing Your Trip, Packing Essentials, Couchsurfing, introduces you to three exciting writers who had the guts to give it a go, while pursuing their dreams; and they show you how you can, too.
Rebecca Gallo decided to live without a permanent home for one year as of 7/7/11 and do the things she's wanted to do for a while—including return to Italy, visit friends on the east coast, take writing and blacksmithing classes, live someplace warm for the winter, and walk the Camino in Spain. You may be wondering, how can she afford to do that? That's what I was wondering as well when I developed an e-mail friendship with her and asked her to write this article. And you'll be surprised by her answers! We welcome Rebecca to the WOW! family and thank her for her fantastic article, Dreams of Long-Term Travel—Closer Than You Think. Rebecca offers practical advice for financing your trip, earning frequent flyer miles, finding alternatives to hotels, and more. Not to miss!
When you find yourself on the road in Germany, chasing down heavy metal musicians for an interview, what should you bring with you? Music/travel writer Steff Metal is used to crunching deadlines while she's on the road and has some suggestions for you in her article, The Writer's Adventuring Toolkit: Packing Essentials for the Traveling Writer. Adapt them to suit your own writing and traveling style!
Our third SLAM article is a story that intrigued me from the moment I heard about it. Natalia Lusinski has been on the road for over two years, moving to a new couch in Los Angeles every week. Yes, I said two years couchsurfing! It's amazing she's managed to earn clips by writing for publications such as CNNMoney and freelancing for television on such shows as Desperate Housewives. How does she do it and still manage to be a productive writer? You'll find out in her fascinating (and funny!) article, How Background Noise Becomes My Writing Soundtrack While Moving from Couch-to-Couch Every Week.
We have a new columnist! Allena Tapia is not new to WOW!—in fact, she's written for us many times before—but we're pleased to announce she's been given a permanent place (or corner) in our publication for as long as she wants it. Allena will be heading up the Freelancer's Corner column; and this issue's topic is Smart, Not Saturated: Social Media Solutions for Writers. Social media is definitely a portable platform that has seemingly weaved itself into our daily lives. Many times to the point of saturation. So how do you avoid social media overload? Contrary to what you may think, it's not adding an extension or plugin to your browser to keep you off of these sites; it's about making a decision to approach social media in a smart way: as a consumer and as a marketer. Allena shows you how to use both of these roles to your advantage to get the most out of your social networks. Welcome to the family, Allena!
If there's one thing that is crucial to the success of an author—as well as many portable writing careers—it's platform. Yet, it's one of the most talked about but least understood terms. One question I often hear from authors is: "How do I build a platform?" We welcome freelancer Charity Kountz and thank her for answering that question in her article, How to Build a Solid Author Platform? Use WordPress!. She covers what makes WordPress different, why it's great for authors, useful widgets and plugins, SEO, social media, and blogging to keep your brand relevant. If you are new or unfamiliar with WordPress, this will give you an overview of what's necessary.
What would a portable issue be without touching on the subject of e-readers? As a citizen of the e-reader universe myself, I was pleased to learn there was site that provides digital galleys to professional readers. If you are a reviewer, blogger, journalist, librarian, bookseller, educator, or in the media, you can use NetGalley for free to request book titles before they are published (ARCs). We welcome back Erika Dreifus and thank her for her informative article, The Portable Reader: NetGalley's Utility for Book Bloggers & Reviewers. Erika reviews the platform and surveys seventy NetGalley users who share their thoughts about everything from usability to title choices.
We're also proud to announce the Winter 2012 Flash Fiction Contest Winners! A big thank you goes to literary agent Elise Capron for judging this season's contest. Congratulations to all the winners and those that had the courage to enter the contest as well. You're going to enjoy reading these fantastic stories!
And last, but not least, I'd like to thank WOW!'s contributing editor Margo L. Dill for making this issue an absolute pleasure to read!
Announcements
We just found out WOW! Women On Writing was selected as a Writer's Digest 101 Best Websites for Writers 2012! This is our fifth year in a row, and we're thrilled. We'd like to thank all of our readers/writers for supporting us. This is a great honor for all women writers because you make up WOW!
On to the issue . . . enjoy!