QUICK JUMP TO:
VERTIGO by Lauren Baratz-Logsted: Reviewed by Angela Mackintosh
WILD INDIGO by Sandi Ault: Reviewed by Beryl Hall Bray
CAT TALK: A BOOK OF QUOTATIONS Reviewed by Lisa Koosis
LILY AND ME by Frederick (Ben) Rodgers: Reviewed by Various
FOR ONE MORE DAY by Mitch Albom: Reviewed by Margo D. Sedgwick
THE INHERITANCE OF LOSS by Kiran Desai: Reviewed by Irene D'Souza
CLAPTRAP: NOTES FROM HOLLYWOOD by Stephen Gyllenhaal: Reviewed by Cristine A. Gruber
BROKEN VOWS by Naiomi Pitre: Reviewed by C. J. Domino
THE EVERYDAY LIVING OF CHILDREN AND TEENS MONOLOGUES by Adra Young: Reviewed by Adra Young
THE MERMAID CHAIR by Sue Monk Kidd: Reviewed by Amy Coffin
THE BEST MYSTERY BOOKS OF 2006 (VARIOUS): Reviewed by Sandy Mitchell
MELINDA AND THE WILD WEST: A FAMILY SAGA by Linda Weaver Clarke: Reviewed by Debra Gaynor
BEST MYSTERY BOOKS (VARIOUS): Reviewed by Susan Atkinson
A CARRIBBEAN TALE by Rudy Gurley: Reviewed by Paige Lovitt
THE FOREST FOR THE TREES: AN EDITOR'S ADVICE TO WRITERS by Betsy Lerner: Reviewed by Lisa Silverman
THE BUTTERFLY'S DANCE by Christyna Hunter: Reviewed by Beverly Pechin
MISSISSIPPI FLYWAY by Nel Rand: Reviewed by Cherie Fisher
-------------------------------------------------------------------------------
REVIEW BY ANGELA MACKINTOSH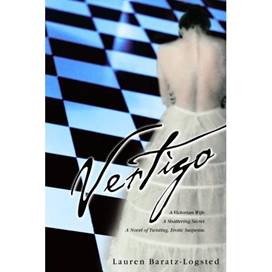 VERTIGO
Author: Lauren Baratz-Logsted
Do you know what the real definition of vertigo is?
It is not the fear of falling.
It is the fear of wanting to fall.
Vertigo is a scrumptious read, gripping from the start, and poses a number of riveting questions about the human psyche. Are we in charge of our own destinies? What is the difference between how men and women view love? How well does one know themselves or their mate for that matter?
On New Year's Eve 1898, Emma -- the epitome of a perfect Victorian wife -- makes a resolution: To become a better person. This fiercely spoken quote, prodded on by the partygoers of Emma's upscale social circle, propels this story into a dizzying chain of events, each more bizarre than the next. Under the guidance of her novelist husband, Emma begins a correspondence with Chance Wood, an inmate serving a sentence for murdering his wife. Soon thereafter, Emma experiences an awakening in herself and her sexuality that she never knew was possible. And when Chance receives a pardon from Queen Victoria and is set free, anything can happen... and it does.
Lauren hooks you from the very beginning. Yes, the chain of events that happen are truly bizarre, but believable. This is because Lauren writes in first person with such a sense of character that immediately wraps you up into the mind and thoughts of Emma. Granted, Emma isn't the most admirable heroine, and at times I wondered if I liked her at all, but there is something utterly real about her musings and emotions that you can't help but relate to, causing a great desire to read on.
Vertigo is like standing on the edge of an immense dark sea, watching as the tide rolls in and out, washing up new pieces from an interconnected world that catch on the sea grass. Every character has a unique purpose to further this well-crafted plot. As a writer, I could easily see the foreshadowing set into place, yet at times, I was completely off. There are a number of twists that cause you to wonder if the narrator is unreliable, but it is ultimately up to the reader to decide. This is the fun and brilliance of the book. It keeps you wondering, guessing, contemplating, questioning... and the sex scenes are steamy, and well done.
Throughout the mid-portion of the novel, Emma is torn and has to decide whether she can remain in a complacent marriage with her husband John, or seek out happiness with her lover Chance Wood. As the passion between Emma and Chance swelters, and the relationship between Emma and her husband takes a turn, there appears to be only one solution left... to kill her husband John. But this novel is more than mere plot. The underlying theme is that of control and possession, and our abilities as men and women to secure our inner and outer worlds. Vertigo is butter to the palate, smooth and delectable, a fast read and a feast for the senses. I highly recommend it as worth your while.
-------------------------------------------------------------------------------
REVIEW BY BERYL HALL BRAY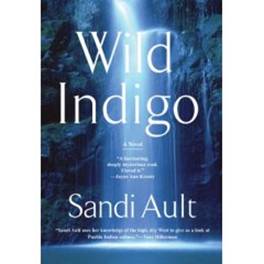 Wild Indigo
Author: Sandi Ault
When you start to read WILD INDIGO, you'll quickly discover it's a book for all senses--her descriptions make you aware of Jamaica's world through temperatures, smell, taste, landscape, touch and relationships that infiltrate the heart--while other interactions have you wanting to shut your eyes, hold your breath and run.
During the buffalo stampede, you'll hear the thundering hooves, feel the earth's movement, while you heart aches, watching helplessly as a tragedy unfolds before your eyes. From that moment on, you are inextricably bound with Jamaica--to learn the truth.
This is one of those rare books, where the author's heart is full of fervor and rich experiences, combined with integrity of research and a compelling storyteller's mind--obviously, it was so enriching and satisfying for the author to write it--that it naturally becomes enriching and satisfying for us to read it.
This is a work of fiction; but Sandi says if you're looking for truth, you will find it in her inimitable heroine's relationship with Mountain, her wolf. In reality, she offers another truth through Jamaica's love and respect for the Puebloans, and that makes it easy to glean wisdom from their respect for creation.
Reading Ms. Ault's description of the landscape, the people and Jamaica's beloved Mountain reveals the power in the written word. You can feel the rocks, hear the water and smell the soil; all this while you're heart pounds and you try to figure who's trustworthy and who's not.
This is a unique mystery because the story involves a people unfamiliar to the majority. Because there isn't a common pattern of behavior, the twists and turns don't feel contrived, instead they're accepted as surprisingly real.
This is a book of love, courage, fear and excitement. Relationships that grow through the strain of danger and the possibility of great loss enable the reader to experience the reward, the victory, of holding true to one's integrity. You will feel pain and frustration balanced with an unexpected laugh, or a 'you've got to be kidding' moment.
The reading experience has your mind running ahead to avert danger, trying to figure out whom and for what reason, did what he/they did; and all the while, you're completely engrossed as you live in the moment with Jamaica.
Jamaica is a delightful, complex and appealing character. It doesn't take many pages to get comfortable with this proficient agent for the Bureau of Land Management. At the same time, she goes places, gets into situations that most wouldn't volunteer for. This creates a desire to get your hands on her next escapade in WILD INFERNO and learn more about Jamaica.
This is a must-read, must-own and must re-read book. While unusual for a mystery, it's true; but there is much more than a mystery in WILD INDIGO.
-------------------------------------------------------------------------------
REVIEW BY LISA KOOSIS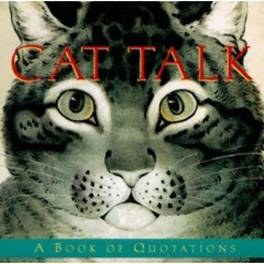 Cat Talk
Author: Various
Not Another Cat Book! -- Is "Cat Talk" Worth a Look?
It's amazing, really, when you consider how much has been written about cats. The shelves at most local bookstores are often nearly overflowing with books detailing just about every aspect of our furry feline friends. There are books about cat behavior, cat care, and books detailing the characteristics of hundreds of cat breeds. There are books on the mythology and folklore of cats, books about writers and their cats, and books that chronicle the adventures of cats and the people that they own (and for anyone who doesn't have a cat of their own, yes, cats most certainly do own people rather than the other way around).
Among all the feline-centric books out there, " Cat Talk: A Book of Quotations " might be easy to miss. It's a little, square paperback book, the kind that you'll find in the gift section of most bookstores. Though it may be small in size, "Cat Talk" is a great find. Filled with quotations, proverbs, anecdotes, nursery rhymes, superstitions, and a half a dozen other things, 373 pages in all, this is a great gift book for a cat lover.
"Cat Talk" is an unpretentious book with quips that range from the serious to the downright silly. It contains quotes from the likes of Rudyard Kipling, Chaucer, Mark Twain, and other famous cat lovers. Each page contains a single quotation or fact, and it's easy to find yourself sitting there flipping page after page, a smile on your face.
The pages are set beautifully, the font set in a range of sizes that are easy on the eye and varying enough to keep it interesting. It has nice, thick pages that hold up to the wear of constant flipping. All in all, it's a nicely made book, pleasing to the eye and small enough to carry in a pocket.
It's easy enough to overlook gift books in the bookstore. Often ridiculously overpriced for their size and lacking in any real substance, gift books are a luxury that many people won't bother with. "Cat Talk" is different because it has substance. And priced at $5.95, it's well worth the few dollars spent.
As a gift, this would bring a smile to the feline fanatic in your life. It's small enough to fit into the toe of a Christmas stocking or just big enough to wrap up as a stand-alone gift. Or why not go ahead and buy a copy for yourself? It's a great addition to any animal lover's book collection, even your own.
Lisa is an author on www.Writing.Com, which is a site for Poetry.
-------------------------------------------------------------------------------
REVIEWS BY VARIOUS WRITERS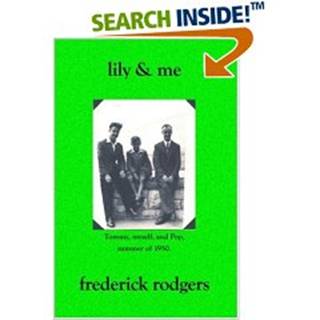 LILY AND ME
FREDERICK (BEN) RODGERS
born in Belfast, Northern Ireland
Here are a selection of recent reviews of the above named book, an autobiography of the first sixteen years of my life.
Regards F. Ben Rodgers. Ebenezer PEI. Member PEI Writers Guild
When Ben Rodgers (1955 Drake Div 16/17 class 40 Mess) contacted me to review his book, I was a bit skeptical when he said it wasn't about the RN, but his life up to joining Ganges in 1955, and I wondered if it would be of interest to our members. However, I said I would and I did, and thoroughly enjoyed it. Why? Because I think that whereas Ben's boyhood was certainly different from my own, we grew up in the same era,1940's-50's and I could relate to Ben's description of living during that period: doodlebugs, schooling, father (guardian in Ben's case) returning from the war etc.
This book is an excellent read and a social history of its time and I recommend it.
HMS Ganges Gazette (winter edition) Richard Lloyd (Gazette Editor)
Art is the expression of emotion that elicits emotion. You certainly achieved that end. I laughed and I cried. I read an enormous number of books each year, its my hobby, my relaxation and I love to learn. You met all of these goals in this book, thank you, I'm looking forward to the next installment. You have a delightful talent
Libby Gaucher. Nova Scotia.
Hi Ben, I just wanted to let you know I have finished your book and was (I admit) quite surprised to find it a book that I couldn't put down. My expectations were as low as one might expect when reading a "first" book written by a friend. Instead I was amazed at your ability to dredge up the memories of your early youth and became quite wrapped up in your story. Good Job
-------------------------------------------------------------------------------
REVIEW BY MARGO D. SEDGWICK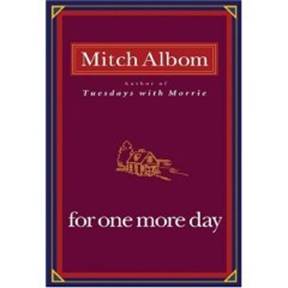 A Moment Relived Is Like an Echo:
FOR ONE MORE DAY
Author: Mitch Albom
Every second is a lifetime, a double entendre. Occasionally we are led to recall, relive, re-examine one those seconds. Each second inevitably leads to an alliance with its preceding and following seconds, which is how stories evolve into "analects," a word with no singular component. Just revisiting the second itself becomes an evolutionary experience forever altering the path of the current second--a quantum physics approach, if you will, of our own realities, our own choices. That we are led to such hindsight is never a coincidence. Such a journey is often intensely, maybe painfully cruel. For those of us courageous enough to linger there a moment, the journey may also lead to an affirmation that the decision made in the next second gives birth to new life, to second chances.
"for one more day" is Charlie Benetto's story, a suicidal man who is magically gifted with one more day with his deceased mother whom he inexplicably finds carrying on her daily business at his childhood home place. This day is about revisiting his past, about gentle confrontations, about mangled dreams, about regrets and heartbreak. And it's especially about unanswered questions, forgiveness given, and love declared. It is also a day of spiritual renewal in which Charlie faces his demons and comes to an acceptance and understanding that all of us script our lives by choices made.
What would you do if you could spend one more day with a loved one? Find a copy of Mitch Albom's "for one more day" and read it--today. Even if you must sit in a bookstore or library, make the effort. Albom's prose is deceivingly simple, a quick read with a life-long impact. A fable of sorts. Just do it. Today.
-------------------------------------------------------------------------------
REVIEW BY IRENE D'SOUZA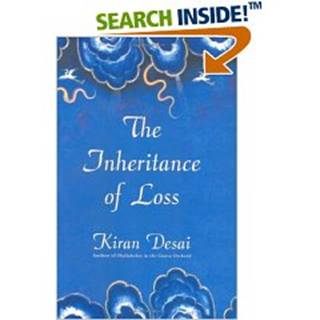 THE INHERITANCE OF LOSS
Author: Kiran Desai
With her second novel, The Inheritance of Loss, the New York based, Kiran Desai proves that she is an accomplished novelist. Her intellectual grasp of the contemporary issues affecting our complicated world: feminism, globalization, fundamentalism, sectarian and terrorist violence results in an illuminating story. Kiran Desai assumes the literary baton from her mother the novelist Anita Desai, reaches for and achieves gold. She won the 2006 Man Booker prize.
Set in 1986 at the foothills of Mount Kanchenjunga in the Himalayas, and also in New York, this evocative novel intersperses in measured bursts of humour and compassion the story of two protagonists flailing to make sense in a threatening world.
Sai is a seventeen- year- old orphan girl sent from her convent school to live with her anglophile grandfather, the judge. Living in upper class but decaying splendor he has shut himself off all human contact, giving his love to his dog Mutt. He is a man who is in terminal decline both emotionally and financially. He has no time for Sai who must rely on others for emotional fulfillment and soon falls in love with her Nepali math tutor the dirt- poor Gyan. Her adolescent passion is intertwined with a sense of danger and is tinged with both wonder and darkness. Their friendship signals the beginning of a sexual life, but the pressure of repression exerted by the community forbids desire. Sai learns that class envy and jealousy always trumps and thwarts love.
Gyan joins the Nepalese insurgents who brutalize the community. Desai makes good use of events that have rocked the political world in the past. She wryly writes about the fragile yet complex nature of everyday living, deftly showing the ties that bind a community can instantly unravel. Desai's devastating but insightful portrayal of all the imaginary differences that humans seek in each other has dire consequences for those caught in the turmoil.
Lest the western reader feels gleeful about the third world maelstrom, Desai offers a parallel story of Biju, the cook's son. Living as an illegal immigrant in the rat-infested underbelly of New York's restaurants. Desai's unflattering portrayal of the land of the free whose pavements are paved in gold is devastating. She captures the humiliating ordeal of living as an alien in one of the richest cities in the world. The fear, the degradation and the constant threat of exposure make for a harrowing read. Biju's secretive life is a modern version of Dante's journey in the inferno. Meanwhile his father believes he is an accomplished chef, living the high life, and solicits favors-begging his son to help newly arrived immigrants. Biju does not shatter his illusions.
Sai and Biju share a legacy: they are both exiles living at home and abroad, haunted by the silence that engulfs them in the midst of the clamor. The quiet yearning for some respite from the chaotic world builds up to a crescendo. Desai skillfully captivates her readers with her uncanny ability to choose the right words, her allusions are unforced, her descriptions vividly imagined, this powerful story mesmerizes the reader.
Reviewer: Irene D'Souza is a free lance writer living in Canada
-------------------------------------------------------------------------------
REVIEW BY CRISTINE A. GRUBER
Claptrap: Notes from Hollywood
Author: Stephen Gyllenhaal
"Nothing is ever as simple as it seems" - so Mr. Gyllenhaal reminds us in his poem, "Spangled Banner" and indeed continues to remind us throughout his insightful and reflective first collection. Claptrap: Notes from Hollywood is a thoughtful, honest, and poignant compilation of touching and detailed poems. The author pulls the reader in immediately, creating a sense of security, only to have the proverbial rug pulled out from under those slippery feet, with the surprising veracity of who we are and how we live. "Careful There Pardner" is an excellent choice for an opening poem. Verbally smacked upside the head, the reader has no choice but to sit back, take a deep breath, and devour the entire book in one sitting. Every poem leaves an impression and incites additional readings. The author details the simple, and clarifies the extraordinary. Gyllenhaal's imagery is mesmerizing. A spiritual union takes place between reader and poem, as one submerges deeper into the sights and sounds and smells. As with the poem, "Communion," the juxtaposition of the gardener with the blower and the priest swinging the incense almost triggered an asthma attack as I read the cleverly placed words. Equally comfortable with both long and short poems, some of his concise works contain incredibly strong messages. The heart may never be viewed the same way again, after reading his poem, "Tender." And "Axiom" is indeed a favorite. Three simple lines that say so much - sometimes only a poem can dispel the demons that plague us all. Some will make you smile; others will make you pause, and a few will make you hurt, as with "The Man." For anyone who's ever waited on a gurney, in a gown that doesn't quite fit, thinking about the ones who are grown and not worried, (because you aren't that old, yet)...you'll read this poem and tremble in understanding. "Confession" touches on the simple things that capture our attention and last through the years, and "Bread" is beautiful - illustrating longevity in life, love and relationships. "Grammar" is breathtaking - 'the space between the words' - what a beautiful insight. There are no approximate words in a poem, and each 'space' speaks volumes as well. The poet goes on to touch on every conceivable emotion. "Night Job" tears at the heart, even as the heart is being given away. Daily life can be a bit of a circus. Life in Tinseltown is probably more of a spectacle than most. "Success" and "Canon" offer fascinating glimpses into the glitz and illusion of the creative existence known as Hollywood. Sometimes the truth can only come out in a poem. In summary, though the poet laments in "Greenwich Time," - 'I will not just leave this perfect place without a mark,' I believe it's safe to say, 'not to worry, Stephen...you have left your mark.' Hopefully, this book is only the first of many such volumes to follow. An affecting collection. Well done.
_____________________________________________________________
About the reviewer: Cristine A. Gruber, a Southern California native, is an award-winning author/poet whose work has been featured in numerous magazines including: Writer's Digest, Writers' Journal, Westward Quarterly, Lummox Journal, Northwoods Journal, The Penwood Review, Poem, The Poet's Pen, Poetry Depth Quarterly, and Ruah - Power of Poetry. She is a member of The Poetry Society of America, The Society of American Poets and The Christian Writers Guild. Her first book of poetry, Lifeline, is available through Amazon.com. Her second book, Walking Barefoot with God, will be available Winter 2007.
www.myspace.com/cristinegruber
www.cristinegruber.com
-------------------------------------------------------------------------------
REVIEW BY C. J. DOMINO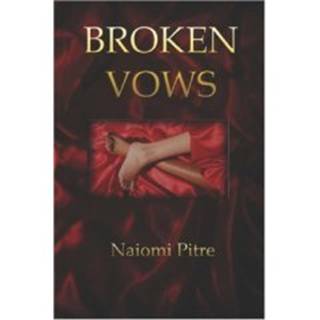 BROKEN VOWS
Author: Naiomi Pitre
Broken Vows by Naiomi Pitre takes you into the lives of Dominic and Yvonne Long; your All American couple who, on the outside appears to have it all. But on the inside turmoil is brewing. Dominic is insecure because of his wife's successful career and his own fledging business. His insecurities suddenly have Yvonne doubting herself and their marriage when she discovers that her husband has be sleeping around with her worst enemy. What was once built on solid ground begins to sink like a castle that was built in the sand.
Well written from beginning to end, I found myself shifting between cursing out the main characters and then cheering them on. From mistress to murder...Broken Vows has it all. A must read in 2007, you won't be disappointed after reading this roller coaster of a novel.
Visit Naiomi Pitre at www.myspace.com/bbinbatonrouge.
Reviewer: C.J. Domino is the author of Outta Control~New release coming March 2007
-------------------------------------------------------------------------------
REVIEW BY ADRA YOUNG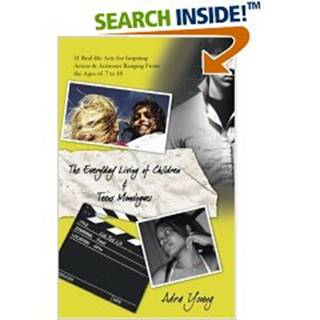 THE EVERYDAY LIVING OF CHILDREN & TEENS MONOLOGUES
By Adra Young
Her book, The Everyday Living of Children & Teens Monologues, is a realistic testament of situations that children, teens, males, or females of all ethnical backgrounds are faced with on the daily basis of their lives directly or indirectly. www.trafford.com/05-0850.
The book is a performance arts guide for children and teens striving to become Superior Actors. It contains 51 real life acts of children and teens to implement for improvement of performing arts. Parents may utilize this book to address sensitive subject areas and establish stronger communication bonds with their kids.
Reviewer and Author: Adra Young
Adra Young is a native of Gary, Indiana. A teacher of eleven years, she's also an Actress, Writer, and Actors Coach for youngsters. Graduating from Roosevelt High School in 1990 and, Central State University in 1995, she took her first shot at acting on the college campus in 1993.
Earning her Master's degree in 1999 from the University of Detroit Mercy, she currently instructs Acting and Dramatization Strategies to the youth. In 2004, she took her first shoot at becoming a Play Wright and produced On the Scene Representing the Red Black and Green, a tribute to the Honorable Marcus Mosiah Garvey.
Some of Ms. Young most recent independent work in 2006 involves her direct involvement in the theater production of the play titled Sweets, and her film involvement with the movie titled Amsteroids in Ann Arbor Michigan.
Her Program
Her program ARDANNYL is an Acting workshop series created for youngsters desiring to become professional actors and at the same time place an emphasis on appropriate socialization skills. Through out the year she instructs three times per week. The location is 35 Grand River Suite 3B downtown Detroit. For further details you may contact her via e-mail at Adyou5@aol.com or visit the company's web site at www.ardannyl.com.
Ms. Young also conducts seminars on acting for companies and organizations. The two most requested are "The Basics of Acting" and "How to Utilize Acting as a Healing Component for the Youth."
-------------------------------------------------------------------------------
REVIEW BY AMY COFFIN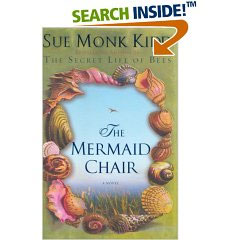 THE MERMAID CHAIR
Author: Sue Monk Kidd
In the winter and spring of 1988, Jessie Sullivan is summoned to South Carolina for a family emergency. Her mother's mental breakdown and self-injury require Jessie to return to Egret Island. The trip from Atlanta is a distraction from Jessie's own empty-nest feelings brought on by her daughter's college enrollment.
Seeing Egret Island brings back some painful memories for Jessie. Her father died in a boating accident when she was nine. The adult relationship with her mother was strained at best. Now Jessie must put those feelings aside in order to give her mother the care she requires.
The Mermaid Chair is an island treasure located in the monastery next-door to Jessie's childhood home. Author Sue Monk Kidd weaves the story around the chair and it's local lore. Even Jessie is swept up in its magic as she questions the direction of her life and the state of her marriage. Mutual attraction to one of the monks is the catalyst that sets the story on its path.
Though this is an interesting story, it's difficult to support of sympathize with Jessie. With an empty nest, her mother's psychiatric issues and the painful memories of her death, Jessie manages to push everything aside in order to lust after a monk. Eventually, Kidd deals with all of these issues, but not before Jessie comes off looking like a selfish woman with a mid-life crisis. A little more time at the beginning of the novel spent on Jessie's relationship with her mother or the pain of losing her father would have made her amorous actions more justified. A more detailed exploration of the other characters, Kat and Hepzibah, as well as the island's Gullah history would have enhanced the tale as well.
The picturesque coastal Carolina setting and practical ending tip the scales in favor of The Mermaid Chair. I'm more critical than most readers would be about the book. It is a good story by a good writer. It's just easy for me to see how it could have been better.
-------------------------------------------------------------------------------
REVIEWS BY SANDY MITCHELL
The Best Mystery Books of 2006
By Various Authors
The Thirteenth Tale -- If you read just one mystery novel this year, make it this wonderful debut by Diane Setterfield. The story is carefully and subtly crafted and it's Gothic-style plot grabs the reader early on and doesn't let go. As added plus, Ms. Setterfield's expert use of language is impressive and refreshing.
Lisey's Story -- The latest from master storyteller Stephen King. Though I have never been an ardent King fan, this novel has a maturity and depth that many of his earlier works lack. Although it does continue the required horror tale, it is first and foremost a love story and in the end tells us as much about King as it does his characters.
The Mission Song -- I've enjoyed John le Carre 's novels since the mid-1970s. His Little Drummer Girl was the first hardcover that I bought away from the remainder table -- a sure sign to me at the time that I'd really made it. I've tracked his work from the demise of the Cold War (the set of his first novels) to the many other arenas of conflict throughout the world.
Le Carre's latest, The Mission Song, brings back much of the intrigue of those Cold War novels. His hero is intriguing, mostly for his being less than perfect, and the levels of deception are chilling and believable.
Mephisto Club -- This year's release for up-and-coming mystery writer, Tess Gerritsen, Mephisto Club is a sophisticated tale of murder and characters who are different than they seem. This fast-paced novel left me eager for her next offering.
Break No Bones -- The most recent in a series of novels by Kathy Reichs, Break No Bones, is a fast-paced and exciting read. This group of mystery books, which feature forensic anthropologist, Temperence Brennan, are the basis for the popular television series, "Bones," but the action is far from predictable.
Reviewer: Sandy Mitchell is a full-time freelance writer and ardent mystery fan. She edits and writes for Suite 101's mystery and crime fiction https://mysterycrimefiction.suite101.com. There you'll find book reviews, author profiles, interviews with up-and-coming mystery writers, and a blog about what's new in the mystery genre.
Article Source: https://EzineArticles.com/?expert=Sandy_Mitchell
-------------------------------------------------------------------------------
REVIEW BY DEBRA GAYNOR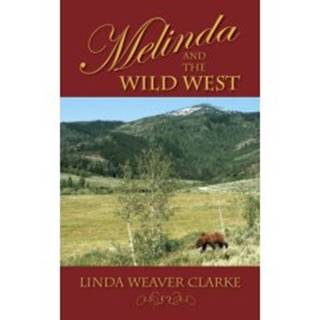 "Melinda and the Wild West" is a historical romance, loosely based on true events of the author's great-great grandparents Gilbert and Sarah Weaver, the first pioneers who settled Paris, Idaho. Linda Weaver Clarke has done a marvelous job of blending history, with fiction, romance and family remembrances.
Melinda found the invitation from her Aunt Martha enticing. She's never been out west. A teaching position opened up in Paris, Idaho. Against her mother's objections she leaves her long time suitor, James, to head into an adventure. When asked what she wants in life, Melinda says she wants "to do some good in the world, and perhaps make a difference in someone's life." She hopes she can do that in the "West by teaching school."
Bear Lake was lovely and Melinda knew she was going to enjoy her new home despite some of the "adventures" that lay ahead. An outlaw chooses to rob the bank on the very day that Melinda decides to open an account. The outlaws are none other than Butch Cassidy and Elza Lay.
When Melinda takes a stroll to enjoy the fresh mountain air she finds a cool stream that entices her to do some wading. She finds a stranger staring at her; his features take her breath away. His name is Gilbert and he's a widower raising his 8-year-old daughter, Jenny. Jenny was one of Melinda's students. The other students were quick to tell their teacher all about Jenny, she's been known to fight with other students and not try to learn, she's been labeled a troublemaker. By reaching out to Jenny, Melinda is drawn to Gilbert.
From the first page I was captivated by this book. I had to continue reading, rushing to turn the page, I had to see what next adventure would catch up with Melinda. The plot is interesting mixing history with fiction, adventure with romance. Melinda is an endearing character and you can't help but see things through her eyes. Gilbert is strong and courageous. I like this book! This is good Christian fiction. It is a great honor to highly recommend this book to readers of historical fictions and romance. Ms Clarke, this is a piece to be proud of, well done!
www.readerviews.com
Article Source: https://EzineArticles.com/?expert=Debra_Gaynor
-------------------------------------------------------------------------------
REVIEW BY SUSAN ATKINSON
Best Mystery Books
By Various Authors
Some of the best mystery books I have read are those I read when I was a kid. My first exposure to the genre came by way of the set of Nancy Drew mystery books that Mom got for me through a school-driven book-buying club. I couldn't get enough of the series-Message in a Haunted Mansion, Secret of the Scarlet Hand, Danger on Deception Island.. I would stay up all night, of course, not so much afraid to turn the light out but concerned the details of the stories would change while I was asleep or that I would miss something I should read before daybreak.
As a teen, I moved from the basic mystery books (although said books are no less involved and just as developed as mature, adult mystery books) and started in the mystery/horror tales, including the fictional and true-crime-based works: these books did keep me awake out of fear-or terror-and did also keep me reading until I finished.to get the closure one needs with such enthralling, gut-griping, spine-curdling stories as those in The Mephisto Waltz, The Amityville Horror, and even The Exorcist.
More devoted mystery books readers will swear by the Agatha Christie Series or will recommend the more modern Sue Grafton novels. Similarly, others will speak highly of Mary Higgins Clark's books or books by Jonathan Kellerman. I, too, would add that detective series and true-crime books are as exciting and incite as much fingernail-chewing as the best mystery books, especially, for example, those by John Sanderford, those by the brilliant Stephen King, and even a few of the master of "junk" novels, Sydney Sheldon.
And mystery book sellers and aficionados will add the hottest new authors to the list, contemporary mystery writers such as Martin O'Brian, Craig Johnson, and Melissa Swaim, Janet Evanovich, and Martha Grimes (as well as many others), who are revered at such sites as MurderbytheBook.com, an independent bookseller who appreciates good literature.
The mystery books genre is wide-ranging, so true bibliophiles (as opposed to genre purists) will allow for suspense, thriller, and other evocative works to be put on the mystery books list. It all depends, of course, on how much you read, what you prefer, and how much Mwoohahhah you can tolerate.
Reviewer: Susan Atkinson writes articles for CanAm College and Email College. CanAm College offers over 100 correspondence courses in Natural Health, Nutrition, Herbs, Counseling, Stress Management, sports and fitness, health and beauty. Email College offers a variety of short courses in writing, adult training, spirtualism and more. The college also offers ebooks, books, videos and products like herbs and crystals.
Please visit https://www.everything-books.com for more on this article.
Article Source: https://EzineArticles.com/?expert=Susan_Atkinson

-------------------------------------------------------------------------------
REVIEW BY PAIGE LOVITT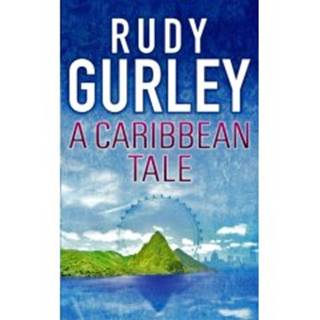 A CARIBBEAN TALE
Author: Rudy Gurley
I felt privileged to read "A Caribbean Tale." This is part one of a true story about the life of Rudy Gurley who had to overcome tremendous obstacles to become a success. As he shares his personal story, he teaches about the value of overcoming adversity and hardships. In addition to working hard towards a successful future Rudy learns a great deal about his past, his family and his culture.
Rudy's mom became pregnant when she was very young. She had two children to his father. His father left the Caribbean island that he was raised on to try to make a better life for himself and his family. Things did not happen the way they were originally planned and his father ended up starting another family. Rudy's mother could not afford to raise him and his sister, Roslyn, so they were raised by his aunt Sheila. As children, they had expectations of being reunited with their parents. As time passed, they were disappointed to discover that this was not going to happen. He did not meet his mother again until he was twenty-one.
Rudy moved to England to get an education. He endured some tremendous hardships on this path. He suffered through some major financial crises that had him hungry and living in some really bad places. Rudy kept plugging away and overcame these obstacles. Through hard work and determination, he achieved his career goals. During this time he also married Susanna, a woman he had vowed to marry as a young man.
In time Rudy was able to reconnect with his father as well as to meet his grandmother and half siblings. Rather than focus on the potential bitterness of having been abandoned by him, Rudy set these issues aside and was able to enjoy meeting his father and learning more about who he is. It was really admirable of Rudy to focus on building a good relationship with his father now, instead of on the rejection he had felt in the past.
In addition to learning about the Gurley family, Rudy also teaches us a lot about the culture of people with roots from Africa. I was amazed to learn about the prejudice that goes on within the black culture. I also learned a lot about the history of slavery outside of the United States. I learned more about the racial issues that still occur in the United States today as well as those still happening throughout the world.
"A Caribbean Tale" is an excellent book. As Rudy Gurley's story flows along, you get swept up in it. I also looked at the obstacles that he managed to overcome and found myself thinking that if I keep plugging away at my own difficulties, I, too, can come out ahead. He really did succeed - and he managed to live his life with integrity. He didn't stop to place blame for his difficulties on other people, he just kept plugging away at achieving his goals.
This story would be an excellent book for cultural studies classes to read.
Article Source: https://EzineArticles.com/?expert=Paige_Lovittttp://www.readerviews.co
-------------------------------------------------------------------------------
REVIEW BY LISA SILVERMAN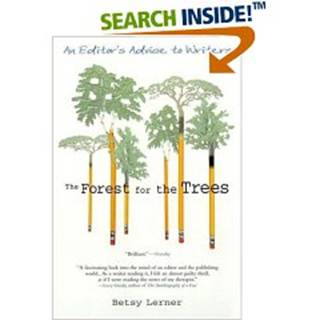 THE FOREST FOR THE TREES: AN EDITOR'S ADVICE TO WRITERS
Author: Betsy Lerner
In her lengthy career, Betsy Lerner has been an MFA student, an award-winning poet, a book editor at major publishing houses, and a literary agent. So in her wonderfully insightful book about writers and the business in which they struggle, she provides a myriad of wise and knowledgeable perspectives. Whether you are working on your first novel or your fifth, ou'll read Lerner's book and think, She's writing about me.
You may not think so on every page, especially if you have an oversize ego. Lerner shares a wealth of anecdotes and opinions about the essential makeup of writers, not all of them flattering. (Words such as "neurotic" and "insecure" come up a lot.) But, because of her obvious love of writers and books, even the brutally honest stuff doesn't come across as insulting. After all, how insulting can it be to be compared to Philip Roth? Her observations are simply honest, and deeply affectionate. Lerner's stories about the enthusiasm she has felt over the years for particular writers and projects, and for the world of books in general, is infectious.
The Forest for the Trees is not a long book, but it covers a lot of territory. The book's first half speaks mainly to the process and the personality of the writer. This is the part that'll make you think she's writing about, or to, you. The chapters are peppered liberally with quotes from Roth, John Updike, Edith Wharton, and dozens of others about what inspired them to begin writing and what prevents them from stopping; about their process; about how they deal with criticism. All writers are different, but you'll identify with much of what you read, whether it's William Styron's comment that "I certainly don't [enjoy writing]. I get a fine warm feeling when I'm doing well, but that pleasure is pretty much negated by the pain of getting started every day"; or the story that Hemingway always needed twenty sharpened pencils on his desk before starting to write. (Gore Vidal's less romantic variation: "First coffee. Then a bowel movement. Then the muse joins me.")
In the book's second half, Lerner turns to more practical matters, pulling back the curtain on what, even if you've been published, may be a world of mystery to you: the publishing house (and, by extension, booksellers, reviewers, etc.). She provides wisdom on dealing with your agent and/or publishers ("Don't make the mistake of writing to publishers in what I call a proposal voice; this isn't a grant you're applying for"). She demystifies what goes on at sales meetings and what makes for a good author/editor relationship. ("Call before sending chunks of manuscript. It's like having out-of-town guests show up uninvited for the weekend.") She also explains the vital role of the book publicist.
What struck me about The Forest for the Trees is that it's not only helpful, not only insightful, but also an engrossing and entertaining read. Lerner is witty and big-hearted, literate without being snobbish, brutally honest without discouraging writers from pursuing a career. It's a book that belongs on the shelves of every writer and every editor (I first read it in a manuscript editing class). I always say that writers should do all the research they can into the book industry before approaching it. This book is a source of knowledge on the book industry, the people who work within it, and, perhaps most important, on the inner life of any writer who ever sat down in front of a blank screen.
Review: Lisa Silverman is a freelance book editor and works in the copyediting department at one of New York's most prestigious literary publishing houses. She has also worked as a ghostwriter and a literary agent representing both book authors and screenwriters. She founded www.BeYourOwnEditor.com in order to provide writers with free advice on both writing and the publishing business.
Article Source: https://EzineArticles.com/?expert=Lisa_Silverman
-------------------------------------------------------------------------------
REVIEW BY BEVERLY PECHIN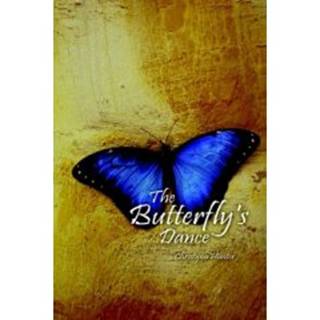 THE BUTTERFLY'S DANCE
Author: Christyna Hunter
"The Butterfly's Dance" is truly one of those gripping, realistic romances that will simply make you feel good to the core.
Kayla Jennings was in an automobile accident at age 12. Losing her will to survive, only her parents could make her carry on with life, finally coming to grips with what she was handed as her deal in life. As she grew older she came to realize that she was a woman in a wheelchair and realistically she would never be able to have a "normal" life like any woman that wasn't wheelchair bound, including love and romance. But that was before she met Jordan, the uncle of a teenage client she's working with.
Taking on a new attitude to delve into helping others in her condition, she becomes a counselor, but when she meets Jordan, her life turns upside down as she somehow allows her heart to take over her brain and falls deeply in love. But can that love survive the trials and tribulations of a woman that's wheelchair bound? How will his friends, family and business acquaintances take her presence? Will she be a burden? Or will they both realize they cannot live without each other?
As she battles her own desires and wishes, resulting in a torn heart and whirling mind she realizes that perhaps love can be found from the seat of a wheelchair. But then what happens when she's given the opportunity to get rid of the wheelchair? Will the fact that Jordan fell in love as much with her disability and honesty as he did her personality mean that she could lose him? Will he understand if she makes the decision to become whole again or is she already "whole" with him at her side?
This is a touching, dramatic story of love that goes against the odds and has you cheering in their corner to keep afloat despite all of the obstacles they face. "The Butterfly's Dance" is written with such an intimate inside look at their lives, you quickly become one with the characters and feel their pains and triumphs. Christyna Hunter's excellent writing style, with a touching story, will pierce your heart.

www.readerviews.com
Article Source: https://EzineArticles.com/?expert=Beverley_Pechin
-------------------------------------------------------------------------------
REVIEW BY CHERIE FISHER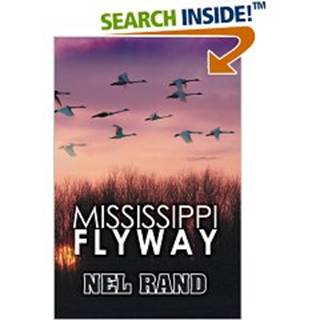 MISSISSIPPI FLYWAY
Author: Nel Rand
First time novelist Nel Rand hits a home run with "Mississippi Flyway". The book caught my attention from the first page and kept it right through to the last page. It is rich with Southern culture and adventures along the Mississippi Flyway (the path along the Mississippi River that birds fly each season). I honestly felt like I was part of the adventure riding in the Bunny Bread truck with Ellie Moon and her Dad, the not so "Tiny" Moon. I also completely related to Ellie's early life as a young Catholic child, brought up on a diet of good ole' Catholic guilt!
The story begins with scenes from Ellie's childhood and the traumatic experiences she endures that eventually lead to repressed memories. Ellie's early experiences, full of abuse, addiction and the early death of her sister Rose, set her up for a lonely and empty life as an adult.
Move forward to Saint Louis in 1967 where Ellie is an unemployed, recently divorced 31 year old still being incessantly nagged by her mother and you have a woman who is definitely ripe for an adventure. That's where her wanderer father, a notorious gambler and conman, walks in after 20 years and offers to take Ellie on a road trip. She quickly accepts and begins the adventure of a lifetime.
The adventures for Ellie happen on two levels - the trip where her father is being pursued by the nasty piece of work Sheriff Dover and the internal struggles that she has with her subconscious to remember what happened to her as a child. I experienced a real sense of the South as it was in 1967 as Ellie and Tiny are pursued by Dover to Kentucky and gambling at Miss Ludine's, onto the backwaters of the Mississippi to an illegal moonshine distillery, to the wild eating contest in colorful Memphis, concluding with a Voodoo ceremony in New Orleans. All through this, Ellie is struggling with her feelings about Tiny's abandonment when she was a child, her sister Rose's death 10 years earlier and the memories that are starting to resurface. She realizes that it's okay to let them out now because she is strong enough to deal with it, and that she must face them to move on with her life. "Mississippi Flyway" ends with Ellie learning just how much compassion and forgiveness she is capable of.
I thoroughly enjoyed this book and highly recommend it to anyone looking for a great weekend read. But be forewarned, don't pick this up before bedtime and expect to go to sleep early.
Review by Cherie Fisher
www.readerviews.com
Article Source: https://EzineArticles.com/?expert=Cherie_Fisher