As a writer, I rely mostly on the creative side of my brain, the right side. As a person who likes to eat, use electricity, and receive assignments, I also need the more methodical left side of my brain to make sure I send invoices, pay bills, and meet writing deadlines. It would be an understatement to say that my left brained skills are weak. Organization for me is having less than two piles of papers on the desk, file cabinet, and floor. I need help.
At the start of each New Year, as soon as the confetti is swept off the floor, I begin a new organization plan. Sadly, I haven't found long-term success. First, I never found a system that met my specific needs. Your average organizer doesn't have room for indispensable things like tracking submissions or ideas that occur to me as I work (also known as staring out the window). So, I end up with a standard planner stuffed with small scraps of paper containing indispensable information. Second, I don't have the tech knowledge to create an individualized computer planner for myself. For me, my computer is basically a large typewriter. Spreadsheets and other useful documents are an impenetrable mystery to me.
Once again, the New Year brought a new organizer. Finally, a organizer designer who knows what writers need! It could be because this designer is also a writer. When Gayle Trent was browsing in The American Girl Store, she was surprised by what she found amidst the dolls—inspiration! She picked up an American Girl Day Planner for Girls. "This is the cutest thing," was Trent's first thought. "Then I started thinking of all the things as readers and writers we would like to have," says Trent. Instead of regretting that this ideal planner for writers didn't exist, Trent decided to create it. That fleeting idea in The American Girl Store became The Writer's Planner.
Perhaps the best word to describe the planner is flexible. The planner, which is available either as a download or on a CD, can be installed on your computer or printed out. Trent, who describes herself as "very tactile" keeps her paper copy in a three-ring binder. I'll probably end up with both a computer and paper copy, so I have easy access to my information wherever I am. Because the planner is a Word document, it's simple for writers (even me!) to edit. In addition to adding information to the calendar section, you can also change the font, size, and color of the planner to personalize it. Because the calendar is undated, you can start it in the middle of the year, use it year after year, and avoid the end-of-the-year scribbles. Who hasn't received a writing assignment in October and ended up scribbling the February deadline on a Post-It until they buy next year's calendar? With The Writer's Planner you can easily set up next year's calendar as soon as you start receiving those New Year assignment deadlines.
By including dozens of pages of information and additions, especially for writers, Trent has managed to make The Writer's Planner both useful and fun. I kissed my monitor when I saw that she had included a page for websites and passwords. Although I've obeyed my tech-savvy friends' advice to create unique passwords, sometimes they're so unique I forget them—or get them mixed up with another site's password. Until I got The Writer's Planner my address book was stuffed with scraps of paper containing passwords. Whenever a website denied me access, I wasted time shuffling through the papers searching for the correct password. There is also a submission tracker, list of favorite sites/blogs, an idea list, and books to read list.
When asked about her favorite section of the planner, Trent chose "A to Z Helpful Sites" three pages of writer's sites. Like every other section of the planner, you can easily edit it to add your own favorites to the list. But that's just one tiny bit of the information The Writer's Planner offers. Do you have questions about marketing, contests, finding experts, sidebars, writer's conferences, self-publishing, or networking? Check The Writer's Planner. It's ideal for those new to writing and publishing. At ten dollars, The Writer's Planner may be the most affordable "Tips on the Writing Life" available. It's also great to have so much information in one place instead of scattered about in several reference books or writer's sites.
Not all the information is work oriented. Some is just for fun. If you have a case of writer's block, take a few minutes to read a famous author's words, learn about doodles, or interpret your dreams.
If you don't have the talent or organizational skills to create your own planning system, The Writer's Planner can give you a specialized writer's system that you can easily personalize. If you're new to writing, the information you receive along with the planner is worth the purchase price.
I'm having a bonfire tomorrow. All those priceless scraps of paper I no longer need are going up in smoke. BYOM (Bring Your Own Marshmallows).
To find out more about The Writer's Planner, please visit: https://gayletrent.com/writersplanner.aspx. After purchasing, you can download it immediately and get organized!
Some sections included in The Writer's Planner:
Writing It Right! Resources for Grammar, Style, and Usage.
Helpful Sites from A to Z
How Can I Achieve My Writing Goals This Year?
Looking For Freelance Jobs/Markets? Resource list of freelance job boards and newsletters.
What Do Your Doodles Mean? Find out what your scribbles say about your personality.
What Reference Books Are On YOUR Bookshelf? Gayle shares her favorite reference books.
Stuck In A Rut? Methods to beat writer's block.
Confused About Copyrights? How to protect your work.
Best Sites On Promotion
How To Successfully Participate In A Panel Discussion.
Are The Mechanics Of Writing Standing Between You And Getting Published?
The Basics Of Marketing Yourself As An Author
Dealing With Editors Who Leave You In Limbo
How To Host A Writing/Publishing Event
Do You Need To Get Out More? Tips to help balance life and writing.
What To Do Between Writing Projects
Can You See What's Right In Front Of You? Recognizing opportunities.
Finding Market Information
Finding Experts
Networking
Get The Word Out About Your Book!
Gaining Writing Experience
Should You Self-Publish?
Dream A Little Dream: What Those Dreams Might Mean
Short Story Genre Links
Submission Tracker Spreadsheet
Ideas Spreadsheet
Websites & Passwords Spreadsheet
Important Information Spreadsheet
The Writer's Planner
By Gayle Trent
$10 File Download (.doc)
$13.95 CD (shipping included)
https://gayletrent.com/writersplanner.aspx
***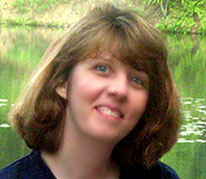 Jodi M. Webb lives in Pottsville, Pennsylvania with her husband and three children. She has written hundreds of articles for publications such as The History Magazine, Pennsylvania Magazine, and Christian Science Monitor. She has also contributed to anthologies on baseball, gardening, pop culture, married life and the military. Pennsylvania Trivia (Blue Bike Books), a book she co-authored, was released in September 2008. In her spare time, she works on her first novel—the story of a group of women on the homefront during World War II.
Jodi is also a reviewer for WOW! Women On Writing. If you would like your product reviewed, please contact Jodi for details: jodi[at]wow-womenonwriting[dot]com