ith NaNoWriMo just ending, many writers have a novel that now needs to be revised and edited. Professional editors can help writers polish their words and strengthen their stories. Canyouproofthis.com is a company that offers high-quality proofreading and copyediting services in a timely and friendly manner. Canyouproofthis.com editors work on fiction and nonfiction submissions, and they strive to provide personal and professional services.
WOW! was lucky enough to interview Cindy Eaton, an editor for Canyouproofthis.com, about the services available, her qualifications, and some helpful tips for fiction and nonfiction writers.

WOW: Welcome, Cindy, and thank you for taking the time out of your busy schedule to talk with us today. How long have you worked for Canyouproofthis.com, and what is your title and job description?
Cindy: I've been freelancing for CYPT as a proofreader/copyeditor for about a year now. Alternate titles might include Copy Swami, Proofing Poo-Bah, and Word Wrangler.
WOW: (laughs) Copy Swami is a perfect title, and much more interesting than the normal "proofreader/copyeditor!" In your position at CYPT, what are some of the most common documents you edit?
Cindy: I've edited everything from soup to nuts, including sales brochures, Web content, self-help books, as well as a number of screenplays and fiction.
WOW: CYPT takes about every kind of written document then. With these documents, you offer three levels of service at Canyouproofthis.com. Can you tell us a little about each level?
Cindy: Basic Proofing looks at the basic, clear-cut, black-and-white errors of grammar, spelling, punctuation, and capitalization. Proofing Plus covers everything Basic Proofing does, but also looks at the bigger picture of style, flow, clarity, word choice, etc., including if a client needs me to conform to a specific style guide. ESL Proofing is for the non-native English speaker and, in addition to all the Proofing Plus stuff, focuses specifically on the correct use of idiomatic expressions and slang terms as well as smooth, English-sounding syntax.
WOW: Thank you for explaining each level to us. It is great that CYPT can meet many different writers' needs. Can you give us an estimated cost for editing at the Proofing Plus level for a 10-page short story and a little information about how this is figured?
Cindy: All Canyouproofthis.com's rates are based on word count, and there are four factors that determine the rate: 1) Complexity—most fiction pieces are charged at the Medium Complexity level (children's fiction would be Lower Complexity; science, fantasy or historical fiction would be Higher Complexity); 2) Service level, as discussed above; 3) The application I'll be working in—most fiction pieces are submitted in Word, screenplays usually in Word or Final Draft, and brochures as PDFs; 4) Turnaround time—the sooner you want it done, the higher the rate. The lowest rate still guarantees almost anything within seven days.
So, based on all that, if your 10-page short story is double-spaced, you'd be looking at around $50 for Basic Proofing, and $70.00 for Proofing Plus. There is a rate calculator on the Canyouproofthis.com site where you can input all your information and get an exact quote instantly.

WOW: The rate calculator on the website is a great idea and seems easy and practical to use. Let's switch gears now to what you find when you edit documents. What are some of the most common mistakes you see with nonfiction articles?
Cindy: Let's see… Apart from the old standards of their/there/they're, its/it's, or effect/affect, capitalization is a biggie. Some folks seem to randomly capitalize terms that sound important to them, when there is no real justification for it. Consistency of style and format is another common problem—how are bulleted lists formatted, and what type of punctuation do they use? What are the different heading levels, and what's the style for each? Which numbers are written out, and which are written as numerals? These issues come up in nearly every nonfiction piece.
WOW: Thinking back to college days, I remember having nightmares about those very things that you mentioned above. Style can be so confusing! What are some of the most common mistakes you find when you edit short stories? What about novels?
Cindy: Spelling can be a monster. Not that it solves all the problems (or even most of them), but running a spell-check is still a good idea before passing your document to anyone. Many fiction writers use punctuation strictly based on intuition (and some seem to prefer not to use it at all), which can make it hard for the reader to follow what's going on. And there's the issue of shifting tenses—a couple of paragraphs in the present tense, followed by a few pages of past tense, and so on. Sometimes it's intentional (and may even work well), but in most cases it's not, and I can usually tell the difference pretty quickly. Writers also often change a character's name in the course of revising their manuscript, and a lot of times I'll find remnants of a discarded name somewhere in the story. Another big issue, for any type of job, is most people aren't clear on the difference between "into" and "in to" or between "onto" and "on to."
WOW: Many of these issues you mention are so important when seeking publication. I've heard many editors and agents say these are reasons they reject manuscripts. How long will it take for a writer to get back her 10-page short story once it is turned in to you?
Cindy: There are three turnaround options: 1) Standard, which is a maximum of seven days; 2) Rush, which is no more than three days; 3) Priority Rush, which means you'll get it back within 24 hours. If a document is too long, the rush options don't apply, but for a 10-page document, the writer can choose among those three turnaround times.
WOW: Choices, choices, and more choices. That's great! On CYPT, a writer can really choose what works best for her, her work, and her situation. What are the qualifications an editor must have to work for Canyouproofthis.com?
Cindy: It's pretty tough to make the cut for the CYPT team. To begin with, you need five years of experience as a proofreader or copyeditor. It can't just have been a job where proofreading was incidental to your main occupation. They take a good look at your résumé and check out your references, too. The hardest part is their proofing test, which they tell me close to 90 percent of applicants fail.

WOW: Editors are very qualified, and it seems like you went through a rigorous process to work for CYPT! So, what is your editing experience? What previous careers or jobs did you have that prepared you for this position?
Cindy: I worked at Warner Bros—online as the SOLE copywriter and copy editor for that entire division. I was there nearly seven years. And in that time, I proofed everything from Web content to legal copy; from corporate communications to technical how-to docs; plus game, press kit, e-mail newsletter, press release, sales and marketing copy. You name it, I did it. We turned out an incredibly high volume of work on very tight turnarounds, and my experience there honed my abilities to: 1) quickly and accurately proof copy, and 2) edit to make copy more powerful and concise.
WOW: That sounds like a terrific job which prepared you well for this current position. How do writers pay you and get their work to you and back from you?
Cindy: Actually, they don't pay me, they pay Canyouproofthis.com. The ordering process is pretty straightforward and can be done through the automated order form on the site. You just provide the specifics about your document and specify the editing needs that define the rate, then add your credit card information and upload the file to the Canyouproofthis.com server. That's it. Once I'm done editing it, Canyouproothis.com sends you an e-mail with a link to the completed document, which you can then download. And then they pay me in cake. I'm kidding. It's usually pie.
WOW: (laughs) Well, I would ask for pumpkin pie or chocolate cake! When you edit a long document such as a novel, how do you tackle this? What information does a writer need to send you? Just the manuscript, or a synopsis, too?
Cindy: I work with what I'm given, which in the case of a novel is just the novel itself—I don't need a synopsis, unless you want me to edit the synopsis as well. There are two main things to pay attention to when editing a long document. The first is timing. Nobody does a good job staring at a document for eight hours without interruption, so I need to make sure I schedule the work over as many days and hours as I think it will take, which includes breaks that are long enough to give my brain (not to mention my eyeballs!) a rest, but not so long that I forget the details of the story.
The second is to start a style sheet as soon as I begin working on a document, where I note character and place names, the writer's preferences regarding serial commas, spaces after periods, etc., and also write down issues I come across that I may have to revisit at the end.
WOW: A style sheet is a great tip, and one I think writers could use while they are writing their novels as well. What happens if a writer has a question about some of your edits or disagrees with your comments?
Cindy: Never happens! I'm kidding… I'm shocked and appalled! Nah, kidding again. Seriously, I am always happy to clarify or answer questions about any corrections I made, as is Canyouproofthis.com—they're very good about being available for questions and comments. As far as disagreements, sure, there are bound to be a few. Unlike straight proofreading (our Basic Proofing level), copyediting (or Proofing Plus, as Canyouproofthis.com calls it) has a pretty significant subjective component. If you give the same story to 10 copyeditors, you'll get back 10 different edits; that's just the nature of that particular beast. So, if the writer disagrees with something I change or suggest, she should simply ignore or undo it. That's why we provide a redline along with the corrected document, so it's very clear what changes were made.
WOW: It's great that CYPT editors are so available for questions after editing a manuscript. If a writer loves your editing job, can she request you again through Canyouproofthis.com?
Cindy: Oh, absolutely. Canyouproofthis.com keeps a record of every job, including which editor worked on it, and it's their policy to provide repeat customers with the same editor every time anyway, unless, of course, the customer asks for a different one.

WOW: Great news. So, a writer and an editor can develop a relationship even. What does a writer receive with your services?
Cindy: The peace of mind of knowing that her writing will be judged on its own merits and not based on a whopper of a typo on the first page. I'll make sure that her words express her intention clearly and concisely. I'm not going to change her voice or turn her words into mine, but I'll polish them so they shine the way they're meant to. I think a writer needs to feel free to put her full focus on the story, the characters, the flow, without getting bogged down with grammar, spelling, etc. That's where Proofing Poo-Bahs come in.
WOW: (laughs) Proofing Poo-Bahs to the rescue! Besides individual writers like we've been talking about up to this point, Canyouproofthis.com does a lot of work for businesses, too. If any WOW! readers own a business and want proofing services, is it easy to open a corporate account? Is pricing the same?
Cindy: It's very easy. But just to be clear, nobody has to open a corporate account if they don't want to. Even as a business, you can just place an order on the site the way everyone else does. The point of the corporate account is that companies with regular proofing needs won't have to bother placing an order anymore—they can simply send Canyouproofthis.com their document as an attachment, along with the required deadline, and everything else is taken care of. Setting up the account is no more complicated than placing an order, even though Canyouproofthis.com likes to follow it up with a phone call to make sure they know exactly what the customer wants. The rates are usually the same as for everyone else, but if a business has several different types of documents that need proofing, Canyouproofthis.com tries to find an across-the-board rate that everyone can live with, which further simplifies the process.
WOW: The fact that Canyouproofthis.com calls and confirms the corporate account can really give a business peace of mind that their business is secure with CYPT! What types of documents do you edit for businesses?
Cindy: Just about everything. Depending on the specific editor's fields of expertise, it can be marketing materials, annual reports, Web content, product catalogs, etc. I only work with Word and Final Draft documents, but many of Canyouproofthis.com's editors are very good with PDFs as well.
WOW: There's a wide range of services available to businesses just as there are for individual writers. In closing, let's talk a little about your own writing. You are also a writer as well as an editor. What kind of writing do you do?
Cindy: I do just about everything—one of my fave gigs right now is writing copy for interactive features and games for the Web. I do a lot of promotional and marketing material: brochures, ads, newsletters, Website copy, PR, sales kits, etc. I also write professional résumés and biographies and have written comedy for TV and radio.
WOW: I read on your résumé you were also a stand-up comedian for a while. Does that past experience help you with your writing and editing?
Cindy: Well, I guess it's helpful in ANY business to have a sense of humor, right? Stand-up was SO much fun—I made my living doing that for about 10 years, and I learned a LOT about writing. Whether writing a joke, a novel, a short story, or a screenplay—anything, really— the key is to create maximum impact by saying what you need to say as concisely as you possibly can. The great thing about stand-up, it's so immediate—you can write a joke, perform it that night, and see instantly whether it works or not. And when a joke didn't work, cutting and crafting the words almost always remedied it. Brevity really IS the soul of wit!
WOW: Yes, and sometimes it seems like it's the hardest for writers to cut their own precious words. That's why we need editors. If you had to give advice to fiction writers out there, especially those who just finished writing a novel with NaNoWriMo, what would you say to them about editing and revising their work?
Cindy: This may sound like a sales pitch, but don't try to proof or edit your own writing. It's just not possible, even for an editor! With my own stuff, I overlook errors that I would never miss when editing somebody else's work. You just know your writing too well—your brain makes you see what you expect to be there, not what's actually there. Apart from a sharp eye, an editor brings the necessary distance to the text that's needed to do the best possible job.
WOW: Thank you, Cindy, for visiting with us today and sharing your insights about editing and information about Canyouproofthis.com!
***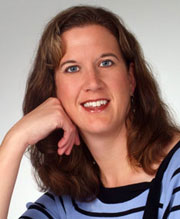 Margo L. Dill is a freelance writer and elementary school teacher living in Mahomet, Illinois. She is a columnist for WOW! Women On Writing. Her work has appeared in publications such as Grit, Pockets, Missouri Life, ByLine Magazine, and The News-Gazette. Her first book, Finding My Place, a middle-grade historical novel, will be published by White Mane Kids in 2009. Check out her blog about using children's books to teach skills and start discussions at https://margodill.com/blog/. When she's not writing, she loves spending time with her husband, stepson, and two dogs—Charlie, a boxer, and Hush Puppy, a basset hound. You can read more about Margo at https://www.margodill.com.