s writers, we are immersed in a world of books—reading, writing, and making a living by putting words onto the page. Now, imagine what it would be like to grow up without books and bedtime stories—without the ability to read to your own children. It's hard to believe that in our time, this literacy crisis still affects families across the United States.
Fortunately, there is a woman who is striving to make a difference.
Throughout her life, Kyle Zimmer has focused on the intersection of policy, business and social sectors. Early in her career, she worked in the political arena and then went on to practice law. During this time, Kyle began volunteering to mentor a child at a local shelter. It was there that she became painfully aware of the limited resources and almost nonexistent access to books for the children.
That awareness planted the seed that became First Book, a non-profit organization founded in 1992. After a decade of dedicated work, First Book has received many awards. In 2003, Forbes Magazine named First Book one of ten "Gold Star" Charities and, for the past five consecutive years, First Book has been a winner of the Social Capitalist Award for using entrepreneurial genius to solve global issues.
The recognition didn't stop there. In 2005, First Book received the largest grant ever given by the Oprah's Angel Network Book Club Award to support First Book's efforts in the Delta region. Most recently, First Book was named the Signature Charity of the Quill Awards. In 2007, First Book received the Golden Halo Award—the highest award for cause marketing in the United States, and Kyle was named 2007 Outstanding Social Entrepreneur of the Year.
The recognition and awards draw much needed attention to the First Book cause, but the real reward is seeing the joy on the faces of children who have been introduced to the wonderful world of books. Under Kyle's leadership, First Book has distributed over 60 million books to children in thousands of communities in the United States.
Check out this video and learn more about First Book's mission and see the excitement in children's eyes as they receive new books.
***
WOW: Kyle we are so excited to feature your organization and introduce you to our readers! What inspired you to create First Book?
KYLE: I am so grateful that you are interested in First Book! This work began with a very personal experience. Earlier in my career, I began tutoring children in a local soup kitchen as a volunteer. I discovered that not only were there almost no books in the facility, but when I talked to the kids about reading at home, they told me they had no books at all. I couldn't imagine growing up without books, without bedtime stories.
That year, two friends and I founded First Book to get books into the hands of children who need them. The first year we gave away 12,000 books in three communities. This year, we'll give away almost 8 million books to thousands of communities across the nation. We've also recently opened offices in Canada to serve millions more children. The thought that there are children waiting for us keeps us going faster every day. That phrase "no books at all" haunts me still.
WOW: What is your personal mission with First Book?
KYLE: What we know is that access to books is the single most important factor in developing a love of reading. And what we know is that there is an average of 13 books for every child in middle class neighborhoods, but only 1 book per 300 children in low-income neighborhoods. Ending this great divide is my personal mission.
When you read the stats on reading and education, you can feel the weight of the issue. But, the wonderful part about working on literacy is that it is a solvable problem—all we have to do is break the cycle. Literate people make certain that their children can read. Every time we reach a child and they become a reader—we break the cycle and the future of that family is changed forever. Once a child is a reader the doors to education swing wider—and, for me, educational opportunity is the next wave of the civil rights movement
WOW: How do you think improving literacy at a young age will help society?
KYLE: Virtually every major social issue has its roots in literacy. People who struggle with illiteracy are vulnerable in so many ways: Economists will tell you that they are unemployable at a living wage; social scientists will note that they are wildly over-represented in prison populations; and political scientists might point out that many of our most sacred rights in this democracy are meaningless for them. Society carries a heavy cost burden for these individuals—but sadder still is the fact that we lose so much talent. Imagine the artists, inventors, scientists, and teachers that we lose when we fail to educate our children.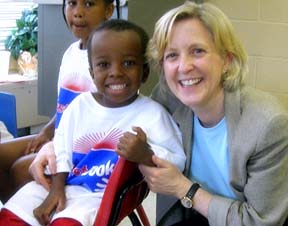 "…every time we reach a child and they become a reader—we break the cycle and the future of that family is changed forever."
WOW: Were there any challenges you faced when you began working to establish FB as a nonprofit?
KYLE: I think that most of our problems were similar to any start-up business. Refining our business model, securing funding, identifying talented people to staff the organization. The social sector really has the same set of challenges that the private sector has—with one critical exception: the social sector lacks the support systems that the private sector takes for granted. It is like that old Ginger Rogers joke: The social sector has to do everything the private sector does—only backwards and in high heels.
WOW: How does the National Book Bank work? Was it difficult to get publishers on board?
KYLE: The FBNBB is unique—and wonderfully efficient. Through the Book Bank, First Book is able to take the excess inventories of the publishing industry and distribute those books to children in need across the country. The Book Bank system allows us to electronically notify programs registered with First Book when there are books available. The groups are then invited to sign onto the Book Bank site choose what they'd like. We hold distributions around the country, about two per month. If the recipients live close enough to a distribution, the books are totally free to them if they can pick them up. If we have to ship books, we charge only 25 cents per book, and we often try to work with a corporate partner to cover that cost.
It was not difficult at all to get the publishers to help. These are people who love books and have been delighted to assist us generously. We have more than 90 children's publishers participating every year at this point—and they provide millions of books to children with us.
WOW: You created a program called First Book Marketplace. How does that function?
KYLE: The First Book Marketplace (FBMP) is an online store selling high-quality children's books and educational materials at deeply discounted prices to organizations serving children from low-income families. The way it works is that eligible programs, meaning those serving kids from low-income families, can purchase books from FBMP at a drastically reduced price. In fact, the average price of a book on the Marketplace is around $1.95—and these are spectacular award-winning titles. We have, in essence, become the collective buyer on behalf of organizations serving children in need—and we can therefore push the price down as low as possible.
FBMP was developed in response to those 200,000 to 300,000 programs out there serving millions of kids in need—and we were not yet reaching enough of them. Our research showed that these programs didn't have big budgets, but they did have some resources, so by aggregating the market of these small programs—we have been able to lower the threshold to book ownership in a self-sustaining way. It brings the power of a great private sector model into the mission of the social sector.
The best part is: we know it works. We ran our own study and found that children with a "high interest" in reading increased from 23% to 61% after receiving books from First Book. The researcher also noted that "with the involvement of First Book, the number of children who previously had a "low interest" in reading fell dramatically from 43% to 15%." Books are powerful tools!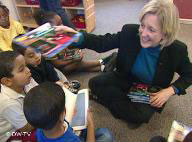 "…educational opportunity is the next wave of the civil rights movement."
WOW: I'm curious about your cause-based marketing campaigns. What are some ways corporations can partner with you to support literacy?
KYLE: Two things to keep in mind: First, First Book's work in the cause marketing world comes from the fact that we believe that the private sector is the biggest jet engine out there and we want that power applied to our cause.
Secondly, at First Book we also want to live in a world where corporations that step up to address social sector needs get rewarded—they prosper. With these two facts in hand—it becomes the responsibility of the social sector to throw the doors open between the two sectors and be wise about the packages and incentives we offer. Our offers must be responsive to the priorities of the corporations involved—or it simply won't work.
The hallmark of First Book is building real win-win campaigns for everybody. First Book can shine tailor campaigns from one city hundreds of communities nationwide. We customize each campaign based on the goals of the corporation by offering special events, tailored promotional materials, creative online components, and by reaching through our national networks to reach a broad range of demographics. We work very closely with our private sector partners to make it perfect for them—because when they win, we win.
WOW: Being involved with such a wonderful organization must be incredibly rewarding. What have been some of your most personally fulfilling moments that stand out in your mind?
KYLE: There is one little boy I carry in my heart everyday. I was back in Ohio, where I'm from, for a book event for elementary school children. The kids were receiving their very own books. This nine year-old boy came barreling up to me, and said in his unmistakable southern Ohio twang, "Ma'am, do you have any books in Spanish?" I said, surprised, "Why, honey, are you taking Spanish?" "No, ma'am," he said, "but I know it's out there, and this is my big chance."
You see, he knew that books could open the world for him. That's why I can't stop, and won't stop, until we can reach all the children who wait for books.
WOW: Are there any upcoming fundraisers or events planned to promote FB?
KYLE: You know, we've seldom held traditional fundraising events, and we've been extremely lucky to have committed corporate partners that value being involved with us. But I have to tell you, in today's economy, everybody is making tough choices. We don't expend our resources on big galas or fancy mailings, but we do need help. When you know that every dollar into our organization generates $10 in books in the hands of children—it makes you guard every dollar that comes in!
So, I'd ask that folks consider donating to help us end illiteracy. I promise that we will make the donations go as far as they possibly can—and every dollar helps.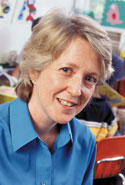 "…I can't stop, and won't stop, until we can reach all the children who wait for books."
WOW: Are there any new directions or plans on the horizon for FB?
KYLE: We have extraordinary plans! Although we are proud of the 60 million books we have already delivered—there are millions of children waiting. For this reason, we are in the midst of a major scaling initiative—to reach the millions of children who are still waiting for books. As part of this effort, we are building an unprecedented global network of organizations large and small that are working to elevate educational opportunities for children in need. Things are moving along in this effort—and we are thrilled to take these new steps.
WOW: How can our readers get involved?
KYLE: Just visit www.firstbook.org and find out more about how to participate. Programs that need books can register with us, folks who want to support the mission can donate, and if you'd like to become more personally involved, readers can find a local First Book Advisory Board, where local volunteers are real ambassadors for literacy.
WOW: Kyle, thank you so much for sharing your passion with us. The work you do is inspiring! Readers, be sure to stop by the First Book Blog to keep up with all their wonderful events to promote literacy. And get involved!
***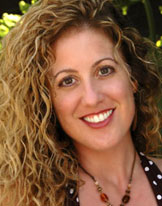 Annette Fix is the Senior Editor for WOW! Women On Writing, an author, and spoken-word storyteller living in Laguna Niguel, California with her Danish Prince Charming, her aspiring photographer son, and two rescued dogs. You can read Annette's Paper Trail blog at www.annettefix.com and find out about Annette's memoir on the book website, www.thebreak-updiet.com. Read break-up and dating stories and share your own at her story forum: www.mybreakupstory.com.