or new writers, there's nothing more important than having a compass to act as a guide in an unfamiliar field. Breaking into the writing profession can be a challenging, if not daunting task; but with a rock-solid plan and a friend or two for support, those starting as newbies—whether for pleasure or pay—can move forward with enthusiasm and confidence as they embark on this creative journey.
There is no dark secret, magic key, or fairy dust to make this happen: Getting published simply requires a strategy and good old-fashioned tenacity. It also helps to be a decent writer, but even that will improve over time.
For starters, roll up your sleeves, turn on that computer, and get ready to buckle down. Though some strategies here are simple, others will require time and detective work, two components of being a writer. In the end, any or all of the ideas below will propel you toward your dream of having your work accepted.
Do you like to write poetry or short stories? Do you enjoy writing how-to articles for magazines? Or do you want to be a columnist for a newspaper because ideas flow out of you like coins from a slot machine? Whatever your proclivities, immerse yourself in that type of writing and do it often.
If you have a special skill or interest and could write about it, do so. Start with hobbies, experiences, or memories. Write an essay about the first time you rode into a scarlet sunset on your Harley, or formulate an article about how to give a great party with just two days' notice (because you're a pro at this). These talents and tidbits are the springboards for writing and can lead to more in-depth explorations later, once you've gotten your feet wet and feel comfortable with the writing process.
When reading, always pay attention to bylines, especially if the writing is in a genre that you'd also like to write in. Then visit the authors' websites and take note of where their work has appeared. Click on the links provided, and see if this can lead you to publications that might be a good match for your own writing. Being a sleuth is paramount to breaking into markets. It requires time for researching and effort to stick with it. But once you've gathered your information, it's done. Then you can query or submit.
If you want to write for magazines, whether for women, high society, or people who like to fish, it's important to shadow the style of writers in your genre—especially as a beginner. Read those magazines carefully, study the ads, scrutinize the skeleton of articles—ones like you want to produce. Are there sidebars, sub-headings? How many? Are there expert interviews? Who, and how many? Bullet points? What's the typical word count, 500-700, or 1500-2000? Follow the leader and you'll be on your way. Think of this guide as, "modeling the pros." Through their work, you can learn, and through their style and tone you can discover what publications want.
At night, when you might be tempted to watch TV or surf the net, spend time instead with a market guide, highlighter pen and some sticky notes, then research the names of publications that interest you. These may be literary journals, magazines, online ezines, or publishers for your novel. Here are some market guides:
Using your favorite search engine, type in subjects, names of publications, authors, "writer's guidelines" and anything else that may help you. Researching on the internet will help you develop a solid list from which to work and will provide you with the building blocks for the ultimate plunge: To submit work in order to get published. Not all information is provided in the market guides, some you'll find by being a good detective.
Use notebooks, index cards, the computer—any tool to help stimulate your writing. Jot down notes, ideas, images, feelings, and memories; use these to write an essay, short-short fiction piece, or article. The more you write, the better you'll become. Also, keep your dictionary, thesaurus, and one good grammar book nearby for quick reference. Learning to write clearly and correctly (grammar, punctuation) behooves every writer.
It's beneficial to take writing classes occasionally to boost skills and techniques. Here, you'll stretch your writer's muscle and commune with others who hold the same passion. And, it's a great place to discover your hidden talents, learn insider tips, and strengthen your ego—yes, you can write after all. Try an online class if you'd like the comfort of learning from home.
Entering competitions is important to do because it gives you deadlines. A fixed submission date is an incredible motivator. Writing for competitions can stimulate creativity and release the doomsayer, which lurks in most writers. Though you may think that your submission is not worthy of winning, you may be surprised when that email arrives or notice comes in the mail that you have won third, second—or first place! Do not let the voice of doubt squelch your hope. One never knows what rewards are around the corner. Check out the list below for competitions and contests:
This adage is as old as Bogart's fedora, but it's true that to get published you must actively put yourself out into the world. You have nothing to lose and everything to gain by querying and submitting regularly. Do you have an essay or short story in finished form? Then find a market for it and send it off—today! The worst thing that can happen is a long wait or a rejection letter. Neither should deter you from staying on track; at least your work will be circulating. Ultimately, the percentage of acceptances will increase over time.
Having trouble with motivation? Maybe you need a nudge. Goals lead to producing work. Producing work leads to submitting your writing to potential markets. Take out a piece of paper and write a goal list similar to this:
Week of September 14th-20th
Begin one short-short story, 500 words or less.
Research a market guide for publications suited for an article idea.
Write a query for an article idea, then send it out to 3-5 magazines.
Start one essay about a life-changing event.
Send off 3 completed poems to a publication that accepts poetry.
With lists like this staring you in the face every week, the fire is stoked with reasons to write. If you're not able to cross off certain goals—no problem. Either revise them or send them forward to the next week's list.
Your desire is burning and you've got your goals, now it's time to take a deep breath and implement your plan. Being a writer requires jumping in with both feet. By doing so, you're bound to get published and hence, begin gathering clips. Here are some websites to help you take the leap:
www.freelancewriting.com
("Morning Coffee" job announcements listed each Tuesday morning.)
www.craigslist.org
(Click on "writing/editing.")
www.absolutewrite.com
(Articles, database of publications, essays)
www.writersweekly.com
(New listings posted each Wednesday.)
www.writergazette.com
(Click on "call for submissions.")
www.bellaonline.com
(Content editors)
Ezines have cracked open a plethora of opportunities for writers, and writing for them can give you incredible exposure to thousands of people. Getting published online also gives you a nice collection of pieces under your name when you use "Google."
A great resource for online markets is this website: www.wam.umd.edu/~mlhall/magazines.html#ezines
A word of advice: Writing for readers who are viewing your work on a computer screen is different than if an article were in print. Keep your paragraphs shorter and the total piece no more than 500-700 words (unless otherwise noted in the writers' guidelines).
Tips to keep you motivated
Read writing magazines and visit ezines like WOW! Women On Writing.
Have at least one friend who can offer continued support and encouragement, and with whom you can share your frustrations.
Go to libraries and bookstores to remind yourself of your goals.
Keep a piece of paper nearby with the reasons why you want to write, and look at it often; this is the umbilical cord to success.
Start a blog and send the link to everyone you know.
Enjoy the ride, because being a writer is a journey of self-discovery with nuggets of gold along the way.
Writing is a craft that continually needs refining, so read books on the process and mechanics of writing. Also read about the writing life to help you feel connected to this profession and to some of the challenges writers face. Here are some titles:
Writing Down the Bones by Natalie Goldberg (See Natalie's interview in the April 2008 issue of WOW!)
Bird by Bird by Anne Lamott
The Right to Write by Julia Cameron
Writing in Flow by Susan K. Perry, Ph.D.
Page after Page by Heather Sellers
The Courage to Write by Ralph Keys
Go out into the world to gather ideas. Pay attention to the details in your environment. This can be as simple as noticing how birds dunk their beaks into water for a drink, or as complex as observing how the road outside your house is re-paved from start to finish.
Watch people with an eagle eye. Listen to conversations. Study human behavior. Take walks outside and feel life's pulse at its purest level. At the heart of our writing, we must be astute documentarians, chronicling not only our own experiences, viewpoints, and feelings, but also the ebb and flow of earth's offerings which swirl around us. They are simply there for our taking.
To stimulate creativity, read:
The Artist's Way by Julia Cameron
Writeriffic by Eva Shaw, Ph.D
Becoming a writer is a process of trial and error. It takes time, persistence and regular dedication to honing the craft. But with a specific plan in place, becoming a published and paid writer, is possible. Take charge of your course by following the suggestions above, and soon you'll find that your dreams of seeing your work in print will unfold, clip by clip, month by month, year by year.
***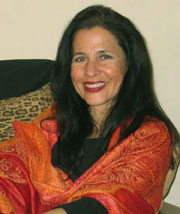 BIO:
Sarojni Mehta-Lissak is a writer based in Long Beach, California. Her fiction, poetry and nonfiction work has appeared in numerous publications including, Wild Violet, Moondance, Mothering, Sasee, Stressfree Living, EnergyTimes, Writers' Journal, and others.
Visit her at: www.SarojniMehta-Lissak.com