our family rolls on the floor laughing at your one-liners. The people at work think you are a comedian. You tell jokes at parties, and your spouse says one of your best assets is your sense of humor. All that is grand, but can you write funny?
You never know if you can write smile-worthy words until you give it a go. Meet me in person and you'll never find a stiffer straight-person. I couldn't tell a joke if my life depended on it. But put me behind a keyboard and this odd sense of humor creeps in. When I submit my chapters to my critique group, I get comments of "funny," "LOL," and "where do you get these sayings?"
Maybe it's time you tried your hand at humor writing. It's more varied than you think. Frankly, you can infuse humor in most any writing, once you understand the many faces of comedy.
Define humor. Some people lean toward slapstick. Others prefer it dry. Some like a little tongue-in-cheek and others want to guffaw with laughter. Humor comes in many sizes, styles, and design. From subtle to blatant, wit takes talent and practice, like any writing.
When we think of humor writers we immediately imagine Erma Bombeck, Dave Barry, Lewis Grizzard and Jeff Foxworthy. They sound a bit humorous in person, but their writing is their calling card. Unless you want to do stand-up comedy, you need to focus on your paper humor. Don't worry about the ability to speak it. Your job is to write it. Timing is still everything, though, even when you write it. You just have a little more time to make that timing click.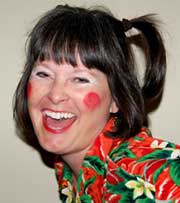 "Don't worry about the ability
to speak it. Your job is to
write it."
What are some styles of humor?
Jokes
Anecdotes (funny examples)
Slapstick
Dark
Sophisticated
Dry
Ethnic
Salty
Satirical
Whimsical
Wry
Vulgar
Droll
Jovial
Playful
Political
Humor has more flavors than a Baskin Robbins ice cream shop. Understanding your market is most important with humor writing. What is funny to one person might be stupid or even insulting to another. A literary journal might like sophisticated prose with a hint of amusement. Another periodical might appreciate straight jocularity. In the South, quick and daring metaphors and similes bring down the house.
It is your job to read the market, understand the target readership, and provide the editor with material that grabs the people who purchase the publication. Sending a whimsical story to MAD Magazine has about as much a chance as a sultry romance in The Smithsonian Magazine.
Do not try to be funny to all markets. As a matter of fact, do not try to be funny, period. Either your humor comes naturally or it doesn't, and forcing the fun results in falling on your face. Know your lampoonery limits. Practice them until they run smoothly, flow evenly, and you wake up in the morning joking with the characters in your dreams.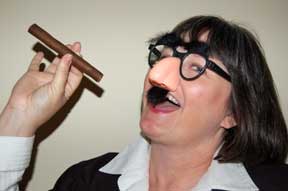 "…ridiculing yourself is safe and full of material waiting to be tapped."
One of the best ways to be funny is to make jest of yourself. Most comedians do that. Erma wrote about her lack of domestic talent. Jeff Foxworthy laughs about his upbringing. Dave Barry frequently ridicules his shortcomings. Do these people feel insecure? No. On the contrary.
Actually, ridiculing yourself is safe and full of material waiting to be tapped. You give people permission to laugh at you when you paint silly snippets of your life. Readers love being able to chuckle at your foibles, because deep down they know they have flaws of their own. Laughing at you gives them permission to laugh at themselves.
In FundsforWriters, I often write about myself. A professional comedy writer once emailed me thanking me for my humor of the week. She said I ought to write a column. Other readers have contacted me about spitting out their morning coffee or laughing aloud at my comments. Believe me, the efforts were not forced on my part. I write from the heart and sometimes my heart plays jokes on me resulting in crazy moments of fun.
I've laughed at my personal escapades in traveling, moving, even working in my yard. I've taken dead fish, a pet hedgehog, and my family's quirkiness and given readers permission to smirk at me. I've posted comical conversations about my son comparing my talent (or lack of) to Stephen King. My mistakes, my successes, and my fumbling around are all fodder for my weekly essays. People have written back so thrilled to read about my life, and I know it's a way for them to see their lives in a humorous manner. Comedy is therapeutic. Ask any shrink.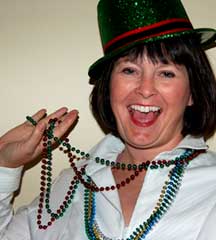 "Lower your guard, quit holding in your gut, and explain life as you see it."
Don't force it. Write like you're chatting with a best friend. Pen phrases you'd say to your brother or sister. Cut loose and don't hold back. Just like instructors tell you to free write and allow your brain to spill onto your paper, humor can develop the same way. Lower your guard, quit holding in your gut, and explain life as you see it. Once you tap that funny zone deep down inside, you'll develop a passion for it. Writing humor is addictive. It makes you feel good, it entertains others, and it's a universal connection.
Consider humorous writing markets. There's a demand for buffoonery, antics, sarcasm, jokes, and general silliness. Almost any market, from parenting to sports, from home decorating to hunting, from medicine to law enforcement, from pets to automotive, accepts a story that brings a smile. Humor sells just about anywhere. Here is a sampling of markets just to show how far you can pitch your humor.
One final secret about writing comedic words…you'll smile a whole lot more.

https://www.brainchildmag.com/guidelines.html
The magazine for thinking mothers. Loves humorous essays on being a parent and raising children.

https://www.centralpa.org/writersguide.html
Central PA magazine publishes feature articles about interesting people, places, cultural and social issues, and activities that relate to life in Central Pennsylvania. Humor is a plus.

https://www.desilit.org/guidelines/humor.html
Wants writing with humor and satire that tests the status quo. All humor welcome like irony, satire, absurdity, political cartoons, anecdotes, and articles. No topic off limits but some taste is requested. Pays $100 for fiction, $20 for poetry, $50 for cartoons. Building support for South Asian and diasporic writing.

E-Mail: editor@dogsincanada.com
https://www.dogsincanada.com/
For dog owners and fanciers. Pays up to $100 for features up to 1,800 words to include humor, interviews, and historical information about dog breeds. Humor accepted for fillers up to 500 words.

https://www.thefastbuck.com/
A unique range of humorous printed greeting cards. Take a look and smile, giggle, or laugh out loud!

https://www.funnytimes.com/submissions.php
Stories should be about 500-700 words. $60 for stories.

https://www.goboatingamerica.com
A magazine about recreational power boating. Pays up to $100 for up to 500-word fillers that are newsworthy, funny or interesting fact-wise. Humor pieces up to 1,600 words pay up to $400.

https://www.hemispheresmagazine.com/pdf/WritersGuidelines_OCT07_am.pdf
Magazine of United Airlines. Has a humor essay column. Pays mid-range.

https://www.jerryjazzmusician.com (Contact Us)
Jazz, film, literature, art, theatre and history online. Fiction, nonfiction, and poetry accepted. History, humor, interviews, first-person, essays, travel and book excerpts. Pays up to $200.

https://www.dccomics.com/mad/?action=submissions
Looking for writers who are clever, offbeat, and, most importantly, funny.


***


(Note from WOW!: Hope, I cracked up so hard when I saw this pic, and had to put it by your bio!)
BIO:
C. Hope Clark is editor and founder of FundsforWriters.com and author of The Shy Writer: The Introvert's Guide to Writing Success. She's published in national publications like Writer's Digest and The Writer Magazine and trade magazines like TURF, Next Step, College Bound Teen, American Careers and Landscape Management. Writer's Digest selected her web site in its 101 Best Web Sites for Writers, for the last seven years in a row.