ave you ever lost your grocery list somewhere in the store, or left it abandoned in your shopping cart? Well, if you have, you may just find your list between the pages of a very funny book—A la Cart: The Secret Lives of Grocery Shoppers.
I managed to catch up with author, Hillary Carlip in between the stops on her book tour and she was generous enough to share some great insights into humor writing and developing your characters.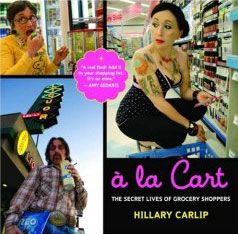 Hillary Carlip's fourth book, A la Cart: The Secret Lives of Grocery Shoppers (Virgin Books, March 2008) has been met with critical acclaim. Her memoir Queen of the Oddballs: And Other True Stories from a Life Unaccording to Plan (HarperCollins), was an American Bookseller's Association Book Sense Pick, a Lambda Literary Award finalist in two categories (humor and memoir), and was selected by Borders as one of the Top Literary Memoirs of 2006. Hillary's first book, Girl Power: Young Women Speak Out (Warner Books), landed her on Oprah with an entire episode dedicated to the book. Her second book, Zine Scene (Girl Press), which Hillary designed herself and co-wrote with the award winning, acclaimed author Francesca Lia Block, was featured at the New Museum for Contemporary Art in New York City, and won an American Library Association Award.
With a past as a performance artist, juggler, cult rock icon, and visual artist, Hillary also has a thriving web design business:
www.flyhcmultimedia.com.
Hillary has appeared on numerous radio and TV shows, including the Ellen Degeneres Show, where she taught Ellen how to eat fire (complete with Liza Minnelli running onstage—unplanned—with a fire extinguisher!)
Today, we have Hillary here with us, sans fire, but with a whole lot of fun.

WOW: Hillary, I just love your sense of humor! Your idea to create a book based on discarded grocery lists is wonderfully unique. Where did you come up with the concept?
HILLARY: I've always been fascinated by how much you can tell about people from some random snippet of their lives—namely their shopping list. I would find lists and imagine the shoppers they once belonged to. In A la Cart, I took it a step further and actually became the people by portraying them and being photographed in markets, and also writing short stories about each.
WOW: How long have you been collecting grocery lists? How many do you actually have? And how did you choose which 26 to use in A la Cart?
HILLARY: I've been collecting lists for decades, and I have thousands. It was quite a process narrowing down to 26. I chose the ones for the book based on wanting to include a well-rounded group of shoppers of all ages, genders, ethnicities, and facial hairstyles! Also I wanted to show a wide variety of the lists themselves. From "Mouse Traps. Cheese. Mouse." (Yeah, for real!) to "Whole Milk. Heavy Cream. Ice Cream. String Cheese. Gas-Ex (!!!)" (Yes, complete with the three exclamation points!).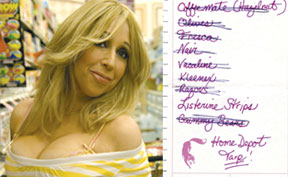 "I've always been fascinated by how much you can tell about people from some random snippet of their lives…"
(Photo: Hillary as "Pammy")
WOW: A la Cart is filled with so many humorous character sketches. I'd love to have you share a couple of your favorites.
HILLARY: Personally, I enjoy Woody, a "Lady's Man with NO BANKRUPTCIES ready to meet just one special lady with NO KIDS." I've been touring and doing a comedy multi-media slide show featuring a few of the shoppers and I've got to say that the crowd fave is definitely the well-endowed, ex-porn star Pammy, author of the motivational self-help book, "When Life Gives you Melons Make Lemonade."
WOW: When I was looking through your book, I thought the pictures were amazing! How long did it take you to transform into the different characters? What was the most surprising result?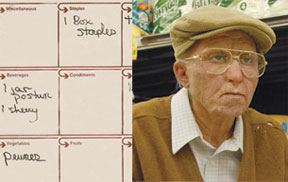 HILLARY: Thank you! Most of the make-up sessions took 2-3 hours. Tattooed-all-over Heather took about 5 hours. I think the most surprising results are 87-year-old Lloyd (my mother still doesn't believe it's me!), and the Vietnamese shopper, Tuyen.
(Photo: Hillary as "Lloyd")
WOW: Yeah, I never would have guessed Lloyd was really you! That was one of my favorite transformations. When you went into public as each of these characters, did you find that people treated you differently?
HILLARY: Absolutely. Especially the above-mentioned Pammy. Three guys offered to carry out my groceries! I remember being Karen, who seemed so invisible to me (definitely by the item included on her shopping/To Do list—"Clean up myself and do whatever I want"), and I felt just as invisible in the market as her. No one noticed me, or even made eye contact or smiled, despite how hard I tried to make a connection.
WOW: Wow. That really is an eye-opening experiment in human nature. When you went into the grocery stores to be photographed in character, did it draw a lot of attention?
HILLARY: Not at all. And I think it's a testament to my commitment to making the shoppers as real and human as possible. Well, that and the guerilla-style nature of the shoots with Barbara Green, my photographer, hiding her camera between a loaf of bread and a honeydew!
WOW: I can just imagine her going "commando" in the frozen food section. (laughs) Out of everything, what was your favorite part of the process when you were putting the book together?
HILLARY: Seeing these personas that, earlier, I had only imagined, finally come to life. It was awesome to see someone in my mind, then go through the whole process of getting the clothes I imagined them wearing, what kind of hair and make-up they featured, etc., and then not long after, to be holding photographs of them. Pretty cool.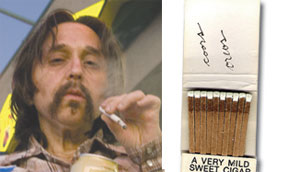 "I think humor is somewhere in all of us."
(Photo: Hillary as "Woody")
WOW: Absolutely! I think it would be cool if every writer could actually see her characters come to life. I've noticed, all of your work is very personal: your memoir, Queen of the Oddballs; the hosting of Fresh Yarn, an online salon for personal essays; Girl Power, an anthology of teen writings, and even the delving you do in A la Cart into the characters behind simple grocery lists. What do you think drives your interest in personal voices?
HILLARY: I think it's simply my interest in humanity and feeling compassion for people. Also, I know how powerful a tool writing and any kind of creative expression has been for me throughout my life, and my work has really been about wanting to encourage others to find that for themselves.
WOW: I know humor is also an important element in your writing. Do you think "writing funny" comes naturally and you either have it or you don't? Or do you think it can be learned?
HILLARY: I think humor is somewhere in all of us. And it's closer to the surface with some more than others. It's also practice. I've found that most funny people grew up in homes surrounded by humor OR the opposite—grew up in challenged circumstances and used humor to get them through. I think what can be learned is how to access it and express it more fully.
WOW: I attended your book signing in Barnes & Noble at The Grove and you had a very innovative way of creating the event around a hilarious book trailer that captures the humor of your book A la Cart. Do you have any tips for other authors about how to have a successful book signing?
HILLARY: Do anything other than what you always see. Book signings have become so predictable and staid. I've always looked to do everything in my life differently—which is evident by the title and subtitle of my memoir: Queen of the Oddballs: And Other True Stories from a Life Unaccording to Plan. I also always include some kind of contest involving the audience to make it more interactive.
WOW: What resources (websites, workshops, books) would you recommend to writers who aspire to break into humor writing?
HILLARY: Since there are so many different styles of humor, I would recommend looking for books and materials that connect to your particular bent. There are also live spoken-word venues throughout the country that feature people reading humorous essays. It's great to do these and not only hear your piece out loud (and see what the audience reacts to, where the laughs come), but also to get the opportunity to hear others read their work. And I have to mention my literary website devoted to personal essays, www.freshyarn.com. There are tons of really funny essays by incredible humor writers!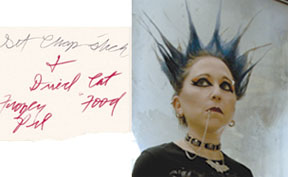 "Don't TRY to be funny. Humor can be found in the skewed way you see things…"
(Photo: Hillary as "Darcy")
WOW: I know you are currently on a whirlwind tour for A la Cart, but do you have another book in the works? If so, can you tell our readers a little bit about what they can look forward to next?
HILLARY: I have a few ideas brewing. I'm still fascinated with mining found objects for material. I have collections of to-do lists and diaries and I'm thinking of doing a book similar to A la Cart, where I imagine, and become, the people these lists or diaries belong to, but this time taking it out of the markets and into other locations and eras.
WOW: You have so many great things on your plate! How do you juggle everything and keep your amazing sense of humor?
HILLARY: Well, it doesn't hurt that I spent years as a professional juggler! I think the actual skill seeped in metaphorically! I also surround myself with as many hysterically funny people as I can—then I have to keep up with them!
WOW: What final words of humor writing wisdom do you have to pass on to our readers?
HILLARY: Don't TRY to be funny. Humor can be found in the skewed way you see things, in an odd situation, or a fascinating character. Allow the humor to come naturally rather than trying to force it.
WOW: Hillary, thank you so much for such a fun and interesting interview! I know our WOW! readers will really enjoy your books.
Readers, Hillary is doing one last Los Angeles reading:
Thursday, May 22, 7pm
Vroman's Bookstore
695 E. Colorado Blvd.
Pasadena, CA 91101

If you don't get a chance to meet Hillary this time, you can check out her website: www.alacartthebook.com for future events. Read the fascinating press she's received and even upload your OWN shopping list!
Editor's Note: Be sure to study Hillary's website designs, content, and all the great, innovative ways she markets her books and connects to readers. Hillary's work is a solid example of what authors can accomplish when they use their imagination! www.hillarycarlip.com


BIO:
Annette Fix is the Senior Editor for WOW! Women On Writing, an author, and spoken-word storyteller living in Laguna Niguel, California with her Danish Prince Charming, her aspiring photographer son, and two rescued dogs. You can find out about Annette's memoir on the book website, www.thebreak-updiet.com. You can also read break-up stories and share your own at her new story forum: www.mybreakupstory.com.