The Ace Cad DigiMemo
www.acecad.com.tw/products.html


Cher'ley Grogg's pick!
My own handwriting, on my computer. Fun and convenient. It gives you the freedom to write and store notes anytime, anywhere. This is the handiest tool I've ever purchased for my writing and also for organizing my life. I love it. There are a few different styles of digital notebooks on the market, but I chose the DigiMemo by AceCad because of the comfortable sized pen.
I have the smaller one. It lacks writing space, but it is the size of a standard notepad. It has a big enough area that I'm able to write and store 99 pages before you have to upload. You can't view the pages as you write them, but the pen is fully functioning and you have a hard copy to look at.
When purchasing one of these products from ACECAD, take note you also need the handwriting recognition software. This transcribes your notes and puts them into written text. It doesn't recognize my handwriting very well, but I don't use that feature too often anyway. I mostly just upload my notes as they are written.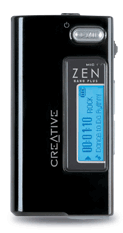 Creative Zen Nano Plus
www.us.creative.com


Margo Dill's pick!
I love my Creative Zen Plus MP3 player for interviews. It is small, but it picks up everything—even my dog snoring when I do phone interviews. It is easy to play back recordings and find the exact quote I need for my articles. You need NO other attachements to record like you do with other MP3 players. And of course, you can also use it for music and audio books.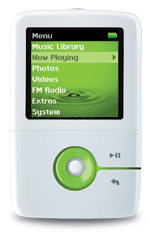 Also, there's the Zen V Plus, which won CNET Editors' Choice Awards. This tiny treasure will fit into any pocket or purse, and has the ability to carry up to 4,000 songs! It also has video, and a built in radio and voice recorder. Another thing that's absolutely fantastic is that by purchasing Creative products you are giving to the National Breast Cancer Foundation.

Dr. Grip Ink Pen
www.pilotpen.us/products


Heiddi Zalamar's picks!
I've used this particular pen for over ten years because it's so comfortable. I have two: one with blue ink, and one with black ink so I can write depending on my mood.
40gb Flash Drive
Another must have is my 40gb flash drive—I store all of my writing work on this thing. It's great for writers on the go. I keep all of my current writing projects on it as well as a portfolio of my published writing. I also keep writing e-books and other writing-related goodies on there. During lunch, I pop it into my computer to go through my work. I got it as part of my new computer package this summer.


Lapinator
www.lapinator.com


Del Sandeen's pick!
I love my lapinator. I've sat with my laptop on my lap for hours using this and it never gets uncomfortable.
It's lightweight and keeps your laptop cool and your lap cooler. It's also very affordable at $24.95

Cute Stuff from Fred Flare!
www.fredflare.com


Angela Mackintosh's picks!
Okay, I admit it. I'm a lover of all things "kawai" (Japanese for "cute"). I don't know if it's genetic, since I'm half Japanese, but I adore eye-candy. And Fred Flare is all over the kawai scene! Just check out some of the little things I found that make you go "Aw..."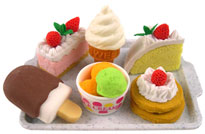 Dessert Erasers: Making mistakes never looked so sweet! Check out these delectable little erasers. They've got an ice cream cone, strawberry shortcake, chocolately popsicle, pancakes and more! They all fit on a handy little tray and measure about 2.5"x3.75"
Non-Planner Datebook: This is certainly not your mom's day planner! This new journal randomly intersperses monthly overviews with note and idea pages so you can have order without all those constrictions! Whimsical art & 12 undated months means you can begin this planner at anytime! Printed on recycled paper with soy-based ink. 96 pages. 5"x7"

Food Pouches: Look at how cute these are! You can use them as a coin purse, makeup bag, or a place to hold your pencils (sizes vary). I love the slice of cake pouch, and the french fries—mmm...give me carbs and I'm a happy camper!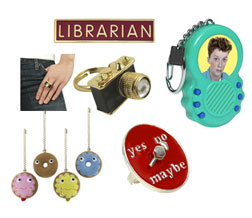 Accessories: 16 Candles Keychain—Re-live your favorite lines from the classic 1986 movie with a hilarious talking keychain! Quotes from "the dork" and other characters include "Chill" and "Ooh Sexy Girlfriend!!!" Keychain is about 1.5"x3.5" Sweet!
There's also a question ring to make your decisions for you (yes, no, maybe), a camera ring, donut key chains that come in sets of two, and your "it girl" librarian pin...because we all know librarians have got it going on!
So check out Fred Flare for your small "kawai" goodies next time you're looking for a unique gift.

What do you think about our must-haves? Do you have items you dream to own? We'd love it if you'd share with us and our readers. Drop us a line. Let's continue to help inspire each other to reach our dreams!