here's no better image than a full-size adult scrunched up in a toddler-size chair. We often look for excuses to plop ourselves in the children's department of the local library or bookstore, spending hours on literary adventures between the covers.
If our first childhoods were great, our second childhoods are grander! If for some reason we missed an enriching childhood experience, there's no better time than the present to allow that child at heart to emerge and be cuddled. Some writers, without children in their homes at the moment, have even gone so far as to borrow a child to share the book experience!
It can be helpful to have wonderful memories rich in children's literature. These fond memories fuel our passion, ignite our fire, and drive our creative soul.

"The books we loved as a child are not the books that editors are looking for today."
A Childhood Favorite
My favorite book as a little listener was The Poky Little Puppy by Janette Sebring Lowrey. I can still picture the puppy playfully frolicking through the flowers, engrossed in the world yet to be discovered.
It was one of the original Golden Books, and nearly 15 million copies of the book have been sold since its first entrance in 1942. The book has touched many hearts, including mine.
One of my colleagues shared with me that a few years ago Poky made a re-emergence on the literary scene. The rolly polly canine graced the front of a novelty shirt. In my searches, I have found reference to these shirts that were available for only a short period. Sadly, I have yet to find an actual shirt for sale. Maybe that's for the best, however.
Sometimes we need to let go of the past to move forward, especially as creators. The books we loved as a child are not the books that editors are looking for today. We need to let go of this past so we can be part of a publishing future. Put your favorite childhood books and the memories they evoke on the shelf for now.
Most people equate children's books with picture books, those marvelous creations that interweave words with illustrations. Picture books are only a segment of children's literature, but they are a good place to start in exploring this publishing world.
"There is a magic number in picture books. That number is 8."
Picture Books
What are picture books?
Picture books are shared between parent and child, although there are children who have the skills to read them themselves. They are lap books. They require no reading skill, as the child is not expected to read these books independently.
Stephen Mooser, president of the Society of Children's Book Writers and Illustrators (SCBWI) and an author of more than 60 books, defines a picture book as "one in which the pictures and the text play equal roles. It's the combination that brings to the work a deeper meaning and elevates it to what a picture book is: a unique art form."
The American Library Association, which awards the Caldecott Medal for the best picture books, defines a picture book as a visual experience with a storyline, theme, or concept. It is usually 32 pages in length but can be shorter or longer, and a relationship is established between the text and the illustrations to deliver the complete story.
Magic Numbers & Word Count
There is a magic number in picture books. That number is 8. Most picture books today are designed in pages with multiples of 8, with 32 being the most common. You will find some 24-page picture books, and even some that are 40 pages or 48 pages in length. Hint: If you write with 32 pages in mind, you're more likely to find a publishing home for your story.
How many words do picture books usually have? Usually 1,500 or less. Many publishers prefer much less. Others prefer more.
Some picture books have no words. These are termed "wordless books." They are not created exclusively for non-readers. These books can be excellent tools for writers in training. Consider Zoom by Istvan Banyai, Window by Jeannie Baker, Anno's Counting Book by Mitsumasa Anno, and Stranger in the Woods by Carl R. Sams and Jean Stoick. Each of these books tells a complete story. None of them has words.
"Writers of words can learn a great deal from storytellers who chose not to use them."
Writers wishing to create picture books may find it helpful to explore wordless books. Note the movement of the story from the left page to the right page. Observe the activity from one two-page spread to the next. Wordless books are great editing tools. Words that don't move a story forward can and should be eliminated. Writers of words can learn a great deal from storytellers who chose not to use them.
Many picture books have stood the test of time, but to truly know the market, writers need to study books created in the past five years or so. Simple concept books, such as counting, have become much more complex, introducing science, sports, history, and much more. Alphabet books can take us on geography tours. Picture books can introduce children to disabilities, occupations, animals, and people.
As you explore these books, remember a picture book that hits the market today was probably purchased by the publisher three or more years ago. That's how long it takes to bring a book to press.
Some of my favorites in this area include Pie in the Sky by Lois Ehlert, Counting Kisses by Karen Katz, Don't Let the Pigeon Drive the Bus! by Mo Willems, No, David! by David Shannon, and Click, Clack, Moo: Cows That Type by Doreen Cronin.
Think beyond the commercial market for children's picture books. Oftentimes what you see on display at a large chain bookstore are books geared to complement the trade market. There is another side to this component of the business and a select set of publishers that seek out high quality literature for children.

"Picture book and picture storybook authors do not need to be illustrators."
Picture Storybooks
Longer picture books are often called "picture storybooks." They can exceed 1500 words and publishers tend to market them to older readers, perhaps in elementary school or middle school.
It's important to know when your book should stay within the confines of a picture book or go beyond the boundaries to a picture storybook. Sometimes a writer's word count makes them think their book should be a picture storybook when in actuality the story is best supported in a standard picture book format. Study the market. Count your words!
My favorite picture storybook is Snowflake Bentley by Jacqueline Briggs Martin. It was awarded a Caldecott Medal.
Picture book and picture storybook authors do not need to be illustrators. As the writer, focus on the words. The publisher will find the perfect artist for your story. Trust the process.
Board Books
One final word about picture books. A board book is often a baby's first book. It can be a remake of a classic children's picture. Oftentimes, concepts—such as counting, shapes, or numbers—are presented in board books. Board books are about 10 pages long. They don't have to be made of cardstock, however. Some board books are actually cloth books or plastic tubby books.
Most new authors do not break into the board book market. And many publishers have little interest in creating board books. Be sure to take your time to develop your idea in this area of children's literature and target the right publishers with your idea.
"Long gone are the days of Dick and Jane."
Emergent Readers
A child's world takes a giant leap when letters on a page begin to make sounds and form words. Publishers call readers at this level "young readers" and the books that are created for them are termed "emergent readers."
These books build reading skills. Long gone are the days of Dick and Jane. The text in emergent readers is repetitive, the storyline is often predictable, and the illustrations help decode the story rather than tell part of the story as is seen in picture books. The goal of every emergent reader is to build confidence. With each new word, a child moves forward and becomes a life-long reader.
These are difficult books to write. Each word must do the work of ten words while remaining simple enough to be understood by the reader and complex enough to hold the reader's attention.
There are no set rules for word uses, sentence structure, and reading levels for these books. Each publisher has its own criteria. A good resource if you are interested in writing in this area is Childrens Writers Word Book by Alijandra Mogilner and Tayopa Mogilner. It's not the bible of children's literature, but it is an excellent starting point.
"Each word must do the work of ten words…"
Oftentimes these books are displayed in vertical rotating bookracks in the bookstore. Some books include well-known characters. Others explore nonfiction topics of great interest to young readers. Some use illustrations; others employ photography. There are many publishers in this area, including some that specialize in educational publishing, selling exclusively to schools and libraries.
Carol's Resources for Children's Writers
Society of Children's Book Writers and Illustrators
This international organization is the voice of children's authors, new and established, around the world. The group supports regional chapters and their activities. It also sponsors two national conferences each year, one on each coast.
Caldecott Medal Page
View the award winners and honor takers in children's picture books as selected by the American Library Association.
Anastasia Suen's Picture Book Writing
Suen is a master at picture books. She offers a series of workshops that focus on various aspects of picture book writing. She is also the author of Picture Writing: A new approach to writing for kids & teens.
Jacket Flap: Research Your Story Idea
This is a wonderful site for children's authors. Conduct a subject search to determine what children's books are already on the market for an idea you might like to write. Don't be discouraged by what you find, however. Look for a unique angle, a new voice, or a fresh perspective to tell your story. Note the publishers behind these books. These might be publishers you want to research in more detail.
Shaw Guide to Writers Conferences
More than just writing for children, the Shaw Guide shares conferences and events around the country in every writing area imaginable.
Writing for Children
This consortium of more than 1700 colleges and universities around the world offers a series of online writing and publishing courses, including one specific to children's writing. In this six-week course, learn more about the business while chatting with other children's writers. A new session starts each month.
Write4Kids
Network with other children's authors here on Write4Kids. The membership is free and the advice is priceless.
The Children's Book Council
Explore publishers and their current needs online.
Some of the better-known imprints of emergent readers include I Can Read books by HarperTrophy, Step into Reading books by Random House Books for Young Readers, and DK Readers.
First Chapter Books
First Chapter books are a favorite of mine, and I'm a bit partial to a little girl named Junie B., who was created by Barbara Park. (My family has two Siamese kittens. One is named Junie B. and the other is Amber Brown, a character created by Paula Danziger.)
The Junie B. Jones series is geared toward 4- to 8-year-olds. If you are not familiar with Junie B. Jones, please take time to discover this little girl and her antics. I guarantee it will bring a smile to your face! (Who wouldn't smile at "mushy gushy valentines," "stupid smelly buses," "sneaky peeky spying," and a "peep in a pocket"!)
Scholastic, a leader in this area, defines a first chapter book as a book for ages 7 to 9 that is about 7,000 to 10,000 words in length. Not all first chapter books fit this criteria. Therefore, it is important to know your potential publishers' guidelines to know whether your subject matter will fit within them.
In addition to Junie B., here are a few of my other favorites in this area: Cam Jansen series (David A. Adler), Magic Tree House series (Mary Pope Osborne), The Magic School Bus chapter book series (Joanna Cole), Arthur chapter book series (Marc Brown), and Horrible Harry series (Suzy Kline).
Middle Grade Readers
Many children have come to know and love a children's book character who wears glasses, has magical abilities, and goes by the name of Harry. He has changed the world of children's literature forever. Welcome to the world of middle grade readers, where there are no longer any rules.
A middle grade reader is a child from grade four or five (ages 9 to 10) to grade eight (age 13). It's the "tween," or preteen/early-teen period in a child's life.
Laura Backes, the publisher of Children's Book Insider, defines middle grade content as follows:
Material is written for ages 8 to 12.
Manuscript lengths range from 100 to 150 pages.
Stories are more complex, with subplots and secondary characters.
Themes are more sophisticated.
There is character identification (often resulting in a book series).
Fiction topics include contemporary, historical fiction, science fiction, and fantasy.
Nonfiction topics include biographies, science, history, and multicultural material.
Now, let's look at Harry Potter. J.K. Rowling's books are loved by all ages, from those engrossed little listeners to the parents doing the reading aloud. The books exceed the recommended page count by hundreds. There are not only subplots, but sub-subplots with secondary and tertiary characters galore.
Here are a few of my favorites in this category: Charlotte's Web (E.B. White), Holes (Louis Sacher), The Giver (Lois Lowry), The Cat Ate My Gymsuit (Paula Danziger), and Hatchet (Gary Paulsen).
Some of the topics introduced at this level are tough and edgy. Consider Carolyn Coman's What Jamie Saw for example. Here, a young Jamie witnesses severe acts of child abuse. This is also a good age group to introduce historical fiction. If you have a passion for history and storytelling, this might be a niche to consider.
The primary difference between middle grade readers and the next level, however, is the intensity of the emotional content.
Young Adult
A relatively new area of children's literature is Young Adult or YA. There is nothing off limits in this category. Book lengths range the spectrum. Selections include fiction, nonfiction, and audiovisual materials.
You may not recall this area from your own childhood as it may not have existed. This area is market driven. Publishers recognized a missing rung on the reading ladder and created books for this age group.
"Many YA books lend themselves well to bibliotherapy."
Many teens enjoy graphic novels, or "manga" (the Japanese version). These are comic book appearing stories. Although some of these graphic novels can be rather dark, they don't have to be. Consider the various classic stories, such as the Puffin Graphics series that includes Dracula, Treasure Island and The Wizard of Oz. These have all been brought to life in the form of a graphic novel.
If you haven't explored this area of children's literature, do so. You may be surprised.
I just finished reading Laurie Halse Anderson's Speak and Cut by Patricia McCormick. Many YA books lend themselves well to bibliotherapy. For some young adult readers, such books may be the closest they get to counseling during a difficult time in their lives.
If your heart longs to reach out to troubled teens or you like to float away in fantasy, this may be the age group for you.
Nonfiction
Nonfiction is an exciting and growing area of children's literature. Publishers need and want creative and innovative nonfiction for all ages, from the tiniest toddler to the college-bound adolescent.
If you haven't explored nonfiction lately, do yourself a favor and check it out. You'll be pleasantly pleased.
Some of my favorites in this area include Grossology by Sylvia Branzei and Jack Keely, The Man Who Made Time by Kathryn Lasky and Kevin Hawkes, and Girls and Their Horses by Camela Decaire, Michelle Watkins, and David Austin Clar. I'm also a paper engineering fan, and Robert Sabuda's Encyclopedia Prehistorica series is sensational. Nonfiction never popped so vividly.
And don't forget about children's magazines. The list is endless and the needs by publishers immense.
First Steps
Here are a few first steps to get you started in the area of children's writing:
Read, read, read. For every book you want to write, read one thousand more. OK, maybe one hundred! Your bag of market research should be overflowing at all times.

Get a library card and befriend your children's librarian. Plop yourself in the picture book section. Let those knees reach your chin. Who cares what people think! You're a children's author.

Join the Society of Children's Book Writers and Illustrators. This is truly one of the best resources for children's authors, new and established. You don't have to be a member of SCBWI, however, to attend their events.

Attend a local or regional children's book event. It's time to network. Rub elbows with editors and stir your passion by spending time with other writers and readers. This is a tough business. Take the leap.

Take a course. This could be a course at your local college or one through a writers' group online. Stretch yourself. There are great adventures awaiting you.

Join a critique group. There's great power in numbers. Find a few creative souls that would like to share, either in person or online.

Develop a business plan for your writing. Set goals. Set deadlines. Writing is a business, a tough business. Plan for your success.

Purchase a copy of Children's Writer's and Illustrator's Market. Mark it up. Dog-ear the corners. Wear it out. You can get a new one next year!

Subscribe to children's specific trade pubs, such as Children's Book Insider. Finding the right publisher is tough work. Let those in the industry do some of the legwork for you. Learn from the pros. It's worth every penny.

Know your publishers and their niches. Not every publisher is looking for the next Harry Potter. They may be looking for you, but you're not going to know it if you don't do your homework. Read with a publisher's eye.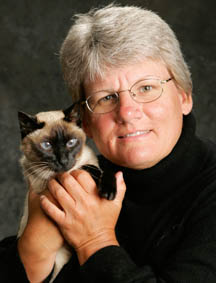 BIO:
Carol Parenzan Smalley is a children's author whose publishers include Scholastic, Barnes and Noble, Perfection Learning, Mitchell Lane Publishers, TouchSmart, and more. She is also the developer and instructor of Write for Children (www.ed2go.com), an online course for children's authors. She and her family reside in a log cabin in the Adirondack Mountains of upstate New York. When she's not writing, teaching, or looking for a Poky Puppy shirt, she can be found wandering the back trails in search of waterfalls and wildlife. Contact her at csmalley@frontiernet.net or 518. 568. 3450.
(Carol and her writing partner, Chardonnay)