A Paradise Reward by Annette Fix…

Amansala Eco-Chic Resort
Dreams, like those of WOW!'s creator Angela Mackintosh, are what keep all of us striving toward our goals. The Must-Have I want to share with readers this month is my achievement reward when I reach my personal finish line. I've decided that when my book becomes a bestseller (notice the optimistic use of "when" and not "if"), I will treat myself by taking time off and booking a 6-day trip to Amansala.
Back in October 2005, I saw an article in USA Today about the resort and I've kept the clipping in my Daytimer ever since. I think I've read the details so many times that my eyes have faded the ink on the page.
Amansala, an eco-chic, all-inclusive, bikini boot camp located in Tulum, Mexico, is the ultimate destination for recharging your mind and reshaping your body.
An average day would unfold with a beach or jungle powerwalk and an elective series of body sculpting, circuit training, kickboxing, cardio dance, pilates, yoga, and meditation. Excursions include bike rides, hiking, kayaking in a lagoon, snorkeling and swimming in fresh water cenotes in the jungle, and a visit to Mayan ruins. Some of the spa treatments to enjoy are beachside massages and Mayan Clay Treatments. At night, there are community candlelight dinners, creative writing, salsa dance lessons, and tribal drumming lessons.
All of the food is low fat and chemical free, consisting of fresh grilled fish, chicken, and plenty of fresh fruits and vegetables. The accommodations are described as "Bohemian Chic; simple, yet with style and comfort. All rooms are made of stone and wood, designed in harmony with nature and have thatched palapa roofs, in a village-like atmosphere."
Sign me up! I can't wait to go! Hey Angela, maybe we should schedule a WOW! retreat at Amansala

Chynna Laird's Dream…
The Wyndswept Bed and Breakfast
www.jasper-bedandbreakfast.com
When I was a girl, I was fortunate enough to have a cabin to escape to every summer – all summer - at West Hawk Lake in Lake of the woods. This real life Garden of Eden was where I developed my love and respect for nature. My biggest wish would be to have a vacation in the Pocohontas suite at Wyndswept Bed and Breakfast nestled into the base of the mountains in Jasper, Alberta. I could teach the wonders and glory of nature to my three children passed down to me by my grandparents. Imagine the stories I could be inspired to write while looking out at those gorgeous mountains!


Jean Lauzier's Wish…
I-Tech Virtual Laser Keyboard
https://virtual-laser-keyboard.com/
The moment I saw this on CSI:Miami I knew one day I had to have one. Not only does this work just like an actual keyboard, it disappears when not in use, leaving more desk space for other things. This nifty gadget connects to MACs, PCs, SmartPhones and most handheld devices projecting a full sized keyboard for each. And...even cooler, it makes the "tapping sounds" just like a real keyboard, something they call the "WOW" effect:-)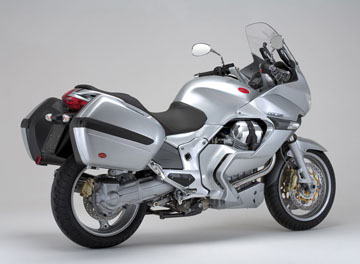 Angela Mackintosh's toy…
Moto Guzzi Norge 1200
I love Moto Guzzi motorcycles – the Italian engineering, rider-friendly handling, reliability, and most of all, the thrill of speeding through a curve. I own a classic 1979 Moto Guzzi V50 (500cc), only 1500 of them ever made! She's a rare gem, and I love her, but I'd like to get a new bike to travel across the country. My bike is great for city rides and traffic, but my dream is to spend some time on the road and explore every state before I get saddle-sore.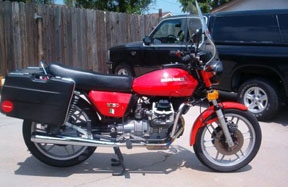 My Moto Guzzi V50 (500cc)
(In the driveway of the guy
who sold it to me)
The Norge 1200 has been designed to eat up the miles. There's a GPS navigation system in the dash with Bluetooth technology, so you can receive directions in your helmet, as well as talk on the phone while riding, so you'll never stay out of touch.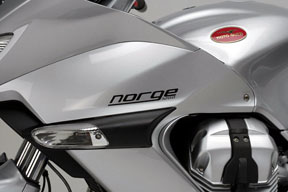 This Guzzi was meant to take mountains - the founder, Giuseppe Guzzi invented the swing-arm rear suspension just for this purpose.
Gran Turismo, here I come! The Norge 1200 is sweet!


When you reach your goals--what paradise spot or object will be your reward?
Do you have a dreamy wished-for item or place like our staff picks? Drop us a line, we'd love to hear from you. Inspire us to keep reaching our goals!