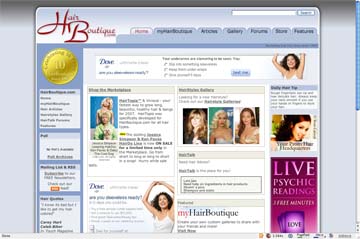 Hair Boutique
While as women we have many differing interests, concerns, etc. there is one thing we all have in common: Bad Hair Days! True, they're never welcome, but have seemingly impeccable timing. Just when you want to look your best, guess who's back?! Well, get ready to Bookmark, ladies, no matter what the cause for limp, unmanageable hair, Hairboutique has your answer. They have resolutions for problems I didn't know existed. Their pictures provide motivation for reading carefully to find your solution to 'perfect hair.' We have Karen Shelton to thank for this site, and speaking of beautiful hair, wait until you see her gorgeous locks. Check out her substantial array of articles, very knowledgeable lady. Share what you learn and send a picture of your hairboutique-beautiful hair to WOW! Blog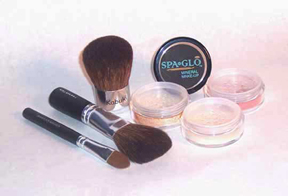 SpaGlo
Since we know your hair will be attracting attention from one and all, it's imperative that your skin be at its glowing best. You must check out www.spaglo.com. Oh My Goodness! It's the equivalent to our first website, only for skin. What do you want to know? What is your skin problem? Which products are the best for you? You will find your answer, we're sure.
When you get there you'll also see that it has that WOW! womanly atmosphere we've all come to love;-) Their site invites you to soak up the ambiance, relax, learn, and enjoy.
They even feature a section showing you how to design a home spa, no matter what your budget is! Is that cool, or what? We know you will like what you see but you will benefit, as well. So, let us know the beauty secret (as we told Linda Formichelli, your secret is safe here, we're mostly women) and send your picture to the WOW! Blog. Enjoy!

Audrey's All Natural Shoppe
www.audreysallnaturalshoppe.com
The first two websites put us in quite a quandary, what website could hold its own with the first two we featured? Then our satellite reporter, Marlisa, came through again. She said that we had to check this site out. We did, we weren't disappointed, and you won't be either.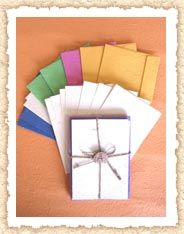 Go to: Audrey's All Natural Shoppe and take a deep breath. No really, it's safe, it's chemical free, has pure ingredients for baby and kids, men and women, there are cosmetics and body care products.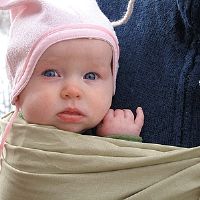 As you wander through their site, at your leisure, simply relax and enjoy yourself. Variety there is, you can even see the latest in Pretty Momma Slings, products for Home Care that won't kill you as you care for your home (now, there's a thought!), natural therapies, and ... I'll stop here. Oh, you don't even want me to spoil the surprises you'll discover...and, I do promise you'll be surprised.


Lauren Baratz-Logsted Writes in about her Must-Have:
"Ever since my husband gave it to me last year, I must have the little TV off to the right of the computer in my basement cave. A TV may sound antithetical to thoughtful writing but I love that I can now easily access sounds from the living world while I'm toiling on the less creative-intensive aspects of my chosen profession. And at three p.m. every day now, I can turn on "General Hospital" and start answering the emails that come in during the day. I'm multitasking like crazy, but I'll still be among the first to see it when Lucky finally finds out Elizabeth's baby is really Jason's."
~ Lauren Baratz-Logsted, author of Vertigo and Angel's Choice


How about the rest of you? Have a favorite product, website, service, retreat...? Drop us a line, we'd love to hear from you. Thanks again, Marlisa, for a great pick! And thank you Lauren for sharing your secret Must-Have.